At first it was just a glow from behind the hills. A half-hour later, an orange dot appears on the top. Twenty minutes after that, the hillside is in flames. Within minutes, the canyon is gone, and the fire shows no signs of stopping... I can only guess it's to the river by now, but I can't see past the tree-line to know for sure. Smoke fills the air. The horses in the field behind my apartment are understandably in a panic. Fire sirens can be heard in the distance. The canyons are at Level 3 and being evacuated. The streets are filled with people gaping at the blaze that's arrived on our doorstep. And now the wind is picking up, gusting straight towards us.
Here is the view from the front of my apartment just moments ago at 8:30 and again at 8:45pm...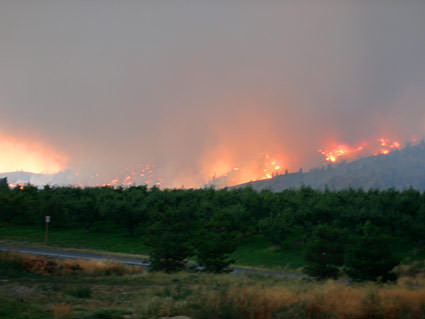 If the fire crosses the river, we're boned.