Last night I had somebody ask me how the recent airline terrorist story coming out of the U.K. would be affecting my travel plans. The answer? It doesn't... not even a little bit. If I had the time, money, and energy, I'd hop on a flight to London right now. I refuse to live my life in fear over something that may or may not happen. I mean, what's the alternative? Am I supposed to barricade myself in my home for the rest of my life? Never go anywhere ever again? F#@% that. Sure the world is getting more scary and more dangerous every day, but that's just the way it is. If I die in a terrorist attack on a plane, then my time is up and I die on a terrorist attack on a plane. Life goes on, and I'm not going to waste time worrying about it.
What I will waste time on is a way to classify people making news. This way, whenever I am not sure what to think, I can just spin my magical "WHEEL OF LABELS" and instantly know how I should feel about the person in question...
For example...
Geraldo (who has apparently forgotten that he used to host the "Geraldo" show, which regularly had topics such as "Men in Lace Panties and the Women Who Love Them") has pulled out the hypocrite card and decided to trash Comedy Central and The Daily Show. He says: "You know, Comedy Central is now a big hit, Stewart and the Colbert guy... they make a living putting on video of old ladies slipping on ice and people laughing. That's their life. They exist in a small little place where they count for nothing."
Say what? This is how he makes himself feel important? Trashing one of the most insightful, smart, witty, and important shows on television for political commentary? Sounds pretty stupid to me. And the fact that he insists on continuing to wear that dorky mustache that makes him look like a 1970's gay porn star just makes it all the harder to take. In any event, I have no idea what to think about this. Time to spin the wheel...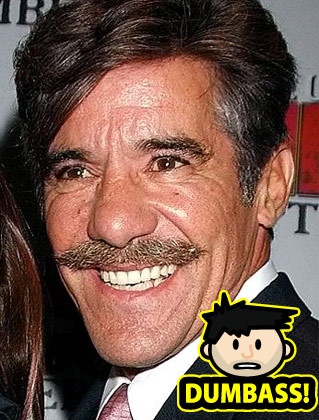 There you have it. Turns out Geraldo is a dumbass. Actually, the needle got kind of stuck between two sections so technically he's a dumbass-f#@%er. Perhaps somebody needs to hit him in the face with another chair to smarten him up.
But how does Daily Show host John Stewart rate?
Yeah, that's kind of what I thought.
And lastly we have Samuel L. Jackson, who talked about his most recent film Snakes on a Plane in an AICN interview. When asked about going back to re-shoot scenes in order to show the snakes actually biting people instead of cutting the camera away, here is what he had to say...
"You want the snake hit! You want to see it. You have two people goin' to screw in a bathroom on a plane and you know that there are some snakes in there... you know that when that tit comes out, you want to see a snake on that tit! At some point you gonna go, 'Man, I know a snake's going to show up somewhere... and hopefully that snake's going to be on that tit!'"
Brilliant. I couldn't have said it better myself! I'm assuming the sequel to Snakes on a Plane will be Snakes on a Tit. So how does Bad-Ass MoFo Samuel L. Jackson rate?
Yeah... like that's any surprise. He was about the only cool thing in those crappy Star Wars prequels. Well, him and Emperor Palpatine. Palpatine was balls-nasty evil! You gotta love that.
Dang. Now I want to watch Pulp Fiction again.