Sometime back in 1979-1980 I ran across a comic strip called "Garfield" about a total bastard of a cat who tormented his dorky owner Jon. I really liked it because it was a little more sarcastic than "Peanuts" and the rest of the funny paper offerings. Since I didn't get the strip in my local paper, my grandmother was nice enough to clip them out and send them to me. Every couple of weeks I'd look forward to getting a fat envelope filled with Garfield strips to read, which was pretty sweet!
But, after a couple years, I couldn't help but notice that the strip was getting repetitive and boring. Rather than come up with something new and interesting to talk about, the team of writers and illustrators that Jim Davis hired to do the strip just maintained the status quo (about the only decent thing to happen since then was the Garfield cartoon show, which was far more interesting than the strip). Eventually I lost interest and moved on to more "cutting edge" humor like my beloved "Calvin & Hobbes" and "The Far Side."
Well, today I ran across something rather cool... the people behind Garfield actually realize that the strip sucks, and have provided a tool to let you create your own!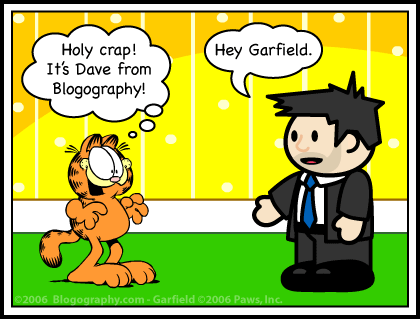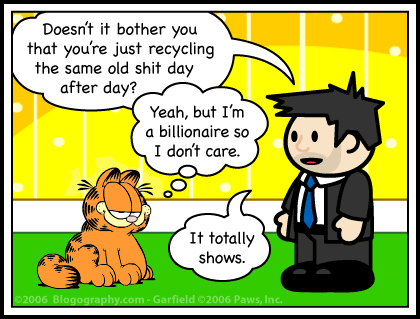 I need to make a tool like that for my DaveToons. It would be a heck of a lot faster than having to draw them.