Today's entry has been rated R by the Blogography Review Board for graphic violence, mature themes, sexual situations, and massive use of profanity. Imagery contained within may be upsetting to younger readers, persons with heart conditions, pregnant or expectant mothers, overly religious nut-jobs (this means you Pat Robertson!), dumbasses incapable of comprehending satire or parody, those with an IQ under 80 (including idiots, morons, stupid-heads, imbeciles, dunces, dimwits, dorks, chowder heads, or raging dumbasses), fans of the television show 7th Heaven, and all those people who are already offended by my blog (but read it ever day anyway)...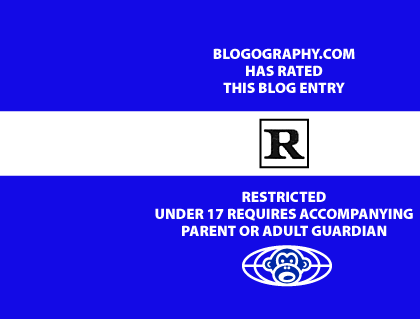 Do not proceed if you fall into any of the above categories. And, if you should choose to proceed anyway, don't even think about sending me an email or leaving a comment telling me how much you hate me and my blog. Because after I've gone to all this trouble to warn you about the atrocities within, that would just make you a major douche.
So please don't click the extended entry link below. You've been warned.
Unfortunately for you, there is a meme propagating throughout the blogosphere called "Fuck Off And Die Thursday." And since I am still pissed off over the events from the past couple of days, I am participating this week. I've never joined in before because I find this kind of excessive profanity to be a bit disconcerting, and don't really care to express myself that way (well, not ALL the time). But, every once in a while, there is simply no other word that can adequately express my dissatisfaction with the given situation. Ordinarily I would just use the word anyway, and munge it up a bit like this: "f#@%".
But that's just not good enough today.
Here's my fucking TOP FIVE list...
STUPID PARENTS WHO WON'T TEACH THEIR KIDS HOW TO ACT IN PUBLIC... FUCK OFF AND DIE!!!
Everywhere I went on my trip, I had to put up with unruly, unmanaged, and totally unsupervised kids. And I don't blame them... they're too young to know any better. It's the fucking parents who don't seem to give a shit that piss me off. At the hotel. In the restaurant. At the mall. In the theater. Even in the frickin' PARKING LOT, you've got screaming kids running around raising hell and annoying everybody. To the parents who are responsible for raising these hellish little turds, fuck off and die.
LEFT-HAND PASSING LANE DRIVERS... FUCK OFF AND DIE!!!
Exactly how difficult is it for dumbass motorists to comprehend signs like these...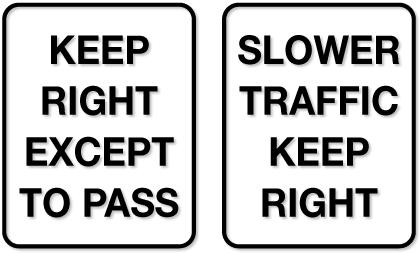 I mean, it's pretty self-explanatory. If you are not passing anybody, DON'T FUCKING DRIVE IN THE LEFT-HAND PASSING LANE!! And yet every damn time I have to drive to Seattle, I inevitable run into idiots who either can't comprehend this, or just don't care. I am of the serious opinion that if you have to pass one of these fuckers on the right-hand side, you should be allowed to follow them home, firebomb their car, and then punish them... by shoving the fucking sign pole up their stupid ass...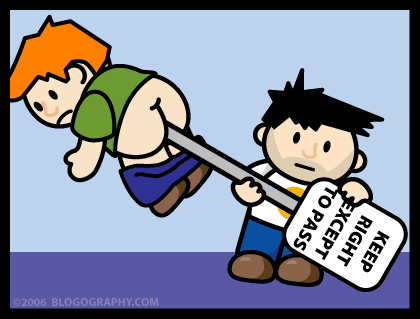 Seriously. If you won't obey the law and learn how to drive properly, then get the hell off the road or fuck off and die.
SHITTY MOVIE THEATERS... FUCK OFF AND DIE!!!
It used to be that movie theaters were grand affairs with beautiful big screens and amazing sound systems. But in the modern age of the cineplex, this is rarely true. More likely is that you will be shoved in a tiny room with a crappy screen, dim projector and even shittier sound. What's even worse is that theater owners want to maximize dollars, so they end up putting rows of seats way too close to the screen. At the shitty Regal Cinemas where I watched My Super Ex-Girlfriend, there were seats literally six feet from the screen where they is no fucking way anybody sitting in them could possibly enjoy the film... assuming they could even see all of it. I realize that theaters have to cram in more movies than ever before to satisfy a niche market, but it's gone way, way too far. Between assholes talking all through the movie, dumbasses leaving their mobile phones on, ridiculously high ticket prices, obscene concession prices, idiotic commercials, and a totally inadequate sound/seating/picture... is it any wonder nobody wants to go to the movies anymore? Since they've utterly destroyed the movie theater experience...Regal Cinemas, AMC, and every other poorly designed theater chain that offers too little for far too much money can all fuck off and die.
SATURN CAR SERVICE... FUCK OFF AND DIE!!!
My car is 5 years old, yet only has 48,000 miles on it because I just don't drive it that often. I like the fact that it's in great condition, completely paid off, and nice to drive. The problem is that my extended warranty has now expired, so any trip to the dealer for service results in my getting totally fucked. Like now. The "SERVICE ENGINE SOON" light comes on every once in a while, and I wanted to know what's up. So I drive in to Saturn and am promptly told that it will cost $100 for them to check the computer and find out why the light is on. Now, I have NO problem paying for something that needs to be fixed... but paying them to take five minutes to plug in a computer and have it tell them what's wrong? FUCK THAT! It's like going to the grocery store and asking if they have any banana popsicles only to be told that it will cost $50 for them to check and see. So instead I go online and buy my own computer for $45 to tell me what's wrong. For half the cost, I can diagnose the problem and know if it's something serious... or just the gas cap not screwed on all the way. Saturn Service can kiss my ass THEN fuck off and die.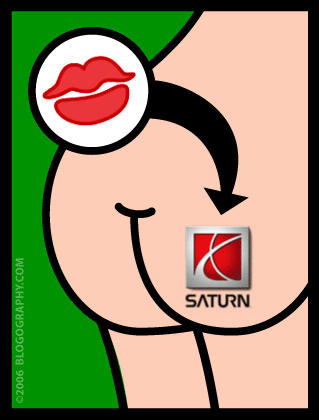 ANONYMOUS ASSHOLE TROLL COMMENTERS... FUCK OFF AND DIE!!!
I love getting comments... really I do. I even have my email program chime a special "beep" when a comment arrives so I can read it right away. I don't even mind it when a comment disagrees with me... the fact that somebody took the time to share their thoughts is all that matters. So imagine my reaction when I hear the beep, then rush over to my inbox only to receive such brilliant comments which, in their entirety, say "Fuck you" or "You suck" or "This is stupid." Just anonymous troll assholes with nothing to contribute and whose only desire is to disrupt other people's lives because they're too fucking stupid to have a life of their own. Even though I would never approve such asinine comments, the fact that I have to put up with it at all is enough to make me want to have them fuck off and die. Twice. And take all the spammers with you.
A pity I have chosen to only list my top five grievances... because I could easily come up with a dozen more. Hopefully this will all be worked out of my system before next Thursday so I don't have to go through this again.