Blargh.
I just spent three hours driving across half the state to Spokane and now I am totally whipped. On top of that, I stopped by David's for way too many slices of the Best Pizza On Earth, so now I have a stomachache as well. I'd write about how totally boring Eastern Washington is to drive through, but I think I'd rather go to bed instead. Maybe on the way back...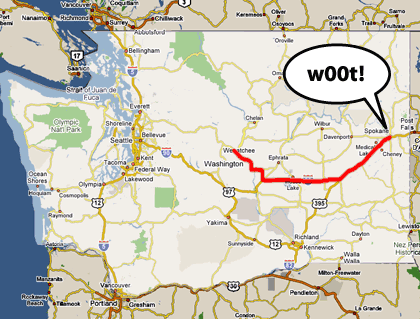 Oh, and one last thing before I go...
If you don't hear from me tomorrow, it's because I've killed the family staying in the hotel room above me, then was arrested and thrown in jail. They have kids running around screaming and slamming doors and I'm starting to get really pissed off. Unfortunately, I didn't bring a shotgun with me, so I am going to have to bludgeon them with an ironing board.
But don't be too concerned... I don't know how to iron my clothes, so it's not like I was going to use that ironing board anyway.