It's time once again for DAVE'S STEAMING PILE OF CRAP TRAVEL AWARD!
This is kind of unprecedented, because I usually wait until a trip is completely over before I go passing out an award. But I have two such amazing candidates that I can't help myself. If things get worse than this, I may just have to start beating people with a hammer.
DAVE'S STEAMING PILE OF CRAP TRAVEL AWARD... GRAND PRIZE: DOLLAR RENT-A-CAR!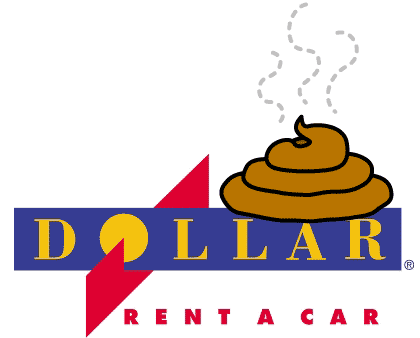 So you have to wake up at 3:00am to make your 6:00am flight. The hotel is working on the water system, so there's no hot water. How much worse could it get? Well, you could get to Chicago and find out that Dollar doesn't have a rental car for you...
DOLLAR AGENT: I'm sorry, all we have is an SUV or a van available.

DAVE: But I have a reservation for a compact car. I don't want to drive an SUV or a van into the city!

DOLLAR AGENT: We do not guarantee that any car type will be available... all we guarantee is that a car will be available. The rate will be the same.

DAVE: But a van is not a car... it's a van! An SUV is not a car... it's an SUV! I have a reservation FOR A CAR!! When will A CAR be available.

DOLLAR AGENT: We are on a car-in, car-out basis here. I have no idea when a compact or mid-size will be available.

DAVE: Then what's the point of a reservation? Dollar Rent-A-Car is stupid.
I mean, seriously. WTF?!? Bad enough that they don't have a car... but they can't even tell me when I can expect to get one?? Well F#@% that! And F#@% Dollar Rent-A-Car. I will never, EVER rent from your ridiculous company again. Burn in hell you incompetent dumbasses. You just caused me to waste an hour trying to find a new car, AND I had to pay extra money because of the last-minute rental. DIE! DIE! DIE!!!!
DAVE'S STEAMING PILE OF CRAP TRAVEL AWARD... RUNNER-UP: HILTON HIGH-SPEED INTERNET!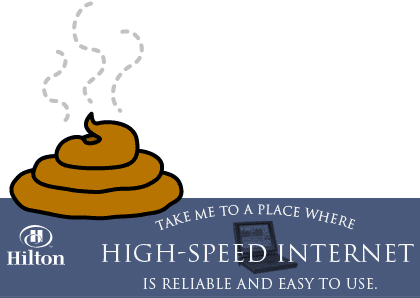 Hilton says "take me to a place where high-speed internet is reliable and easy to use." This is kind of stupid, because if I were to take their advice, I would go anywhere... ANYWHERE except the Hilton Towers in New York. This is the worst internet I have ever used. First of all, you have to use some piece-of-crap "wireless bridge" in order to get signal. Unfortunately, they're all busted to shit. My first one had a frayed cable. My second one wouldn't turn on. My third one couldn't get a signal. My fourth one had a busted antennae... but I held on to it out of fear of what I might get had I tried for number five.
And even when you get a connection... it sucks ass. I had to reboot both the wireless bridge AND my laptop a half-dozen times a day because the internet would simply stop working for no good reason. It's bad enough to have to pay for internet... but to have to pay $9.95 a day for TOTALLY SHITTY INTERNET? WTF?? The Hilton New York is actually a pretty good hotel. I've been staying here for 15 years because the location is primo. But without high-speed internet in good working order, the Hilton New York is crap. F#@% hotels who charge for shitty internet access.
Case in point: I am right now in the middle of nowhere in Wisconsin. I am staying at a tiny no-frills budget hotel that costs 1/5 the money that my room in New York did. I have FREE wireless internet that is fast and doesn't require a bridge of any kind. How is it that this little nothing of a hotel is superior for internet IN EVERY WAY... and is absolutely FREE?
Anybody have a better recommendation for hotels in Mid-Town Manhattan that have decent internet service?