Wisconsin, for lack of a better word, is delicious.
Every time I come here, I always end up eating way too much. Unfortunately, what I eat are foods that are very, very bad for you. Things like a caramel-cashew frozen custard sundae from Culvers (which isn't bad until I tell you that I eat two of these EVERY DAY). Or cheese. Lots and lots of cheese. My latest addiction is fried cheese, which is taking something horribly delicious, doing bad things to it, and then ending up with something atrociously horribly delicious. I just can't help myself... fried fatty foods are my kryptonite.
Another problem here is that they love butter almost as much as I do.
Last night I was at the grocery store looking for snack foods to eat while I was working. I eventually ended up in the chip aisle, and picked up a bag of something called "O-Ke-Doke" because it had cool aliens on it...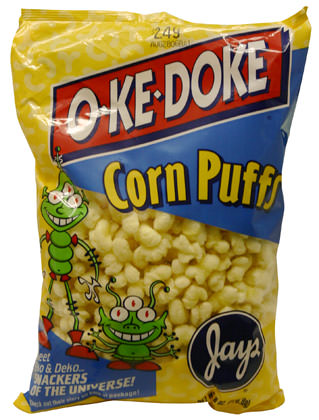 It looked kind of like imitation Pirate Booty, so I was going to put it back until I heard a voice behind me...
NICE LADY: That had better not be the last bag, I was going to get some of that myself!
&nbsp
DAVE: Uhhh... no, there's plenty. I was just looking at it anyway.
&nbsp
NICE LADY: What? How can you not buy it? That stuff is addictive! Haven't you ever had it before?
&nbsp
DAVE: No. They don't have "O-Ke-Doke" in Washington State where I'm from.
&nbsp
NICE LADY: Oh you have GOT to try it then! It tastes like butter, and my kids just love it!
&nbsp
DAVE: Butter you say?!?
So I bought a bag along with all kinds of other snacky crap. All the way back to the hotel, I was getting more and more excited about the prospect of eating crunchy fried butter. What a brilliant idea! So I get back to my room, pull out my laptop, and rip open a bag... only to find out that it's not that great. Sure it tastes like butter (and that's a good thing)... but it's way too salty.
Except I cannot stop eating the stuff.
I ate half the bag last night for dinner, and polished off the remainder this morning for breakfast. It's like butter cocaine or something...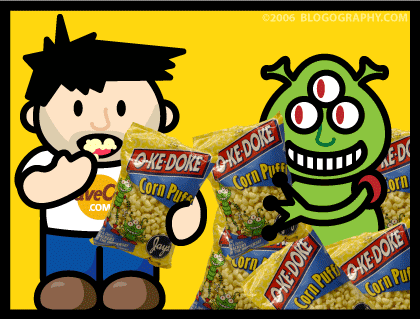 Damn those dirty space-alien-fried-butter-cocaine-snack-pushers!!
Who needs spaceships and lasers to take over the earth? They've got O-Ke-Doke! And with 1190 calories, 1470 milligrams of sodium, and 77 fat grams per bag, humanity's destruction is assured.
And now I have to go to the store so I can buy another bag for lunch.
Addiction sucks ass.