You would think that the internet age would make travel planning easier.
You would be wrong.
I just spent the past four hours arranging flights, hotels, rental cars, and all the other crap that makes travel so much fun. Nothing ever matches up. Flights always have ridiculously long layovers. Hotel check-in times are always too late and check-out too early. And meetings are never in the most convenient place. The good news is that in-between it all, I get to be in New York for a few days...
Then it's off to Wisconsin...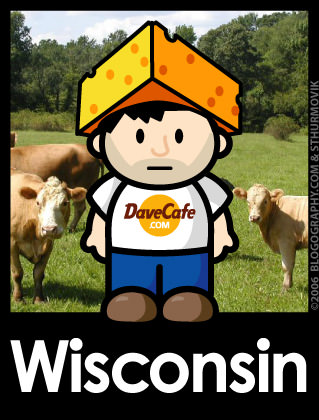 And finally back to Chicago...
And that's only for the first two weeks. I haven't got the energy to plan the rest of the summer.
And now, because it's Saturday and nobody seems to read my blog on Saturdays... AND because I'm a total meme whore... AND because I'm a total music whore... AND because I'm a total whore for Karla's Tales of a Texpatriate... I am stealing this rather cool "Three Songs Meme" from her in an extended entry (because it is MASSIVE)...
NAME UP TO THREE:
The rules are that you can only name a maximum of three, and you have to list specific songs. For your listening pleasure, I've included links to the iTunes Music Store, when available.
Songs That I Loathe to the Core of My Being

I Wanna Make Love by Kid Rock. I'm not sure that's the actual name of the song, but it's whatever song that no-talent ass-clown was screaming at the American Music Awards a couple years ago. "I WANNA MAKE LOVE! I WANNA MAKE LOVE! I WANNA MAKE LOVE!" over and over again. The stupidest f#@%ing song I've ever heard.
This is the Night, by Clay Aiken. Actually, you can pick any of Clay Aiken's shitty songs and plug them in the #2 spot... it makes no difference since they're all crap. This one was played on an airline flight somewhere, which is the only reason I remember the title.
Solitaire, by Clay Aiken. In fact, I loathe this little bastard so much you can stick any of his dumbass songs in the #3 spot as well. I chose this one at random, and it sucks ass even worse than that other wretched pile of excrement. This screeching pile of ass is popular WHY?!?

Musical Artists That I Loathe to the Core of My Being

Clay Aiken. Yeah. Shocked, I know. I'd rather impale my eardrums with railroad spikes than listen to his "singing"... if that's what you call his whiny droning.
Taylor Hicks. Holy crap! And I thought Clay Aiken was bad! Taylor Hicks makes me want to blow my head off... WITH AN ATOMIC BOMB! This American Idol shit has got to stop.
Neil Diamond. Oh how I loathe him. Oddly enough, he's a good songwriter and has written some decent songs... I just can't stand it when he sings them. Every time he comes on the radio I throw up in my mouth a little bit.

Rolling Stones Songs I Love

Paint It Black. The theme song for Tour of Duty, one of my favorite television shows.
Start Me Up. Quintessential Stones song.
Jumpin' Jack Flash. Hey, it's a gas gas gas! And it's also from that cool Whoopi Goldberg film by the same name.

Beatles Songs I Love
Help! This is the song that defines the Beatles for me.
Hello, Goodbye. And this is my favorite Beatles song ever.
Here Comes the Sun. I love this song, but am afraid to admit that I like it best when Nina Simone sings it... probably one of the most beautiful Beatles covers ever.
Holy crap that was a long-ass meme! Probably would have gone faster if I didn't feel the need to explain everything and then grab all those iTunes Music Store links.