I was sent an interesting "Thierry Ardisson Interview" meme to think about. Since it's in French, it's taking a while to decipher because my French language skills are quite poor (and long-forgotten). But one thing is immediately apparent... most all of the questions are introspective. They force you to take a real look at yourself as opposed to asking how others look at you (or asking how you look at something else). The second question is this: "Quand vous vous regardez dans la glace le matin, vous vous dites quoi?" - which translates into "When you look at yourself in the mirror in the morning, what do you say to yourself?"
My answer would have to be "I don't say anything," because I never really look at myself in the mirror. I put my contact lenses in by feel, and brush my teeth while doing other things. I never care how my hair looks, and so it never occurs to me to look. So this morning I decided to give it a try...

And all I could think to say to myself is "you look like shit, buddy!"
Having not slept in a month has really taken its toll. I have bags under the bags under my eyes. I am also in bad need of a haircut. I should cancel my upcoming travel plans and check myself into a spa or something. Or perhaps start shooting heroin, so at least then there would be an excuse for looking like a heroin addict.
And speaking of questions... my best friend Karl has answered my five "Barbara Walters interview questions" over at Secondhand Tryptophan. I must say, asking for questions to fill up blog entries is a pretty sweet idea. I would steal it and have people ask me five questions... but, considering some of the emails and comments I get, that is a very scary prospect. Perhaps it would be better to ask "If you were to GET to ask me five, questions, what five questions WOULD you ask?" That way when somebody asks me something particularly frightening, I can just laugh and say "wow, that WOULD be a good question!"
I am such a weenie.
But since I won't talk about my friends, family, or work... I'm guessing those are the questions most people would ask, and so I really can't go there. I did get a question in my email yesterday that I WILL answer, however...
"Hey did you make any money from that Google ad you put in your RENT entry?"
Wow, that's a good question! I never bothered to look! Let's see shall we? ... ... ... HOLY CRAP! I made $9.54!! That's pretty good isn't it? This is 1/10 the current cost of keeping Blogography running each month on 1/30 the entries I write in a month, so it looks like the site could support itself if it had to. Kind of nice to know that I have options if I should need to use them. Still, I would much rather remain ad-free for as long as possible. Media Temple has mentioned that they will be increasing their bandwidth allowance, so maybe that will take care of my current troubles?
Ooooh, look...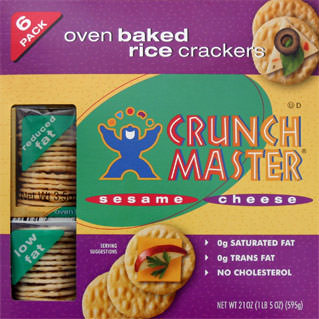 Costco is selling Crunch Master 6-Packs! That's enough to last me almost an entire week! Now all I need is Coke with Lime in 60-Packs, and I'm good to go!