I have a bit of a confession.
While I was working these past weeks, I had a friend approving my comments. Oh sure, I took time out of my busy schedule to read each and every one (because I love me the comments that much), but I just didn't have time to weed through the spam and haters every time a comment needed to be approved. Rather than let them stack up for a month, I had somebody lend a hand. It was as close to my dream "COMMENT-A-TRON 3000" as I'm likely to ever get.
Well, now that I'm back, I'm looking through the comments that were held for some reason or another. Surprisingly, only two were outright nasty (deleted it!). The remaining three were positively reprehensible...
Somebody with a vendetta against Elizabeth Hurley decided to inform me of their insanity on three separate entries.
It's not the first time, and I just don't get it. Do these people honestly feel that I give a crap about trolls who have to say inflammatory trash to get attention? Do they believe in any possible way that I'm going to approve comments with such vile, hateful, filth even if it weren't about the utter perfection that is Elizabeth Hurley? Let's review REALITY here...
For the benefit of the learning impaired, I've constructed the above chart to illustrate How Things Are... with the sublime hotness of Elizabeth Hurley at the top, and decreasing levels of hotness following below.
Now, given my understanding of REALITY, the level of stupidity it would take for somebody to think that any ludicrous comment could possibly change my mind about Liz is truly distrubing.
And kind of sad.
These people have nothing better to do with their life?
And speaking of "disturbing hotness" I ran across this image while doing a Google search for something I now forget...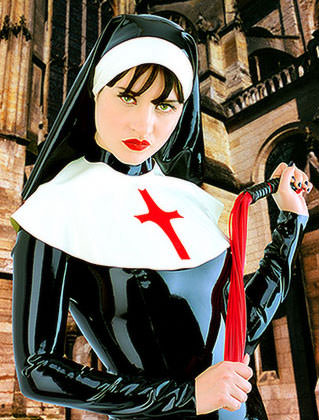 It's a latex nun. With a cat-o-nine-tails. When I look at it I don't know whether to become aroused, hide under my bed, or start crying. All I do know is that latex is some freaky-cool stuff. For some big fun, you can see other wacky creations at The Latex Lounge. I had thought of ordering me some latex biker shorts to wear while running errands around town, but $130 is a bit steep for a half-pair of pants. A thong is only $37.50, but I would probably get arrested for wearing that in the conservative wilds of Central Washington.
But the minute I have $485 burning a hole in my pocket... that Captain's Jacket is smokin'!
Of course, then I'd have to get the $450 pants to go with it.
And a sash. It's just not complete without a sash.