Well that was frustrating.
Movable Type's blogging software just gets more inexplicable with every new release. Their latest, version 3.3, is no different. I specifically waited until it was out of beta before installing it, because I wanted to be sure that they had time to work the bugs out and finish up the documentation. Well, as it turns out, I shouldn't have bothered.
If you are a Movable Type user, or are interested in the software which runs this blog, then I've detailed my upgrade "experience" in an extended entry. Everybody else may want to come back later when I'll be bitching about something else...
The first thing I needed to do was download the new version of the software. For some unknown reason, you are forced to login to your TypeKey account (which I loathe) to download, but whatever. So I go through the process of trying to remember my TypeKey ID and password and all that, then drill my way to the download center, where I am presented with this...

Lovely. We're already off to a great start here, because I have no flipping clue which of the two "Movable Type 3.31" downloads I am supposed to get. Since the second one has an "upgrade key" and I am going to upgrade, I pick that one (I still have no idea what the difference is between them OR what I am supposed to do with my freakin' "Upgrade Key").
From previous Movable Type upgrades, I had a general idea of what needed to be done. I remembered that my search templates needed to be restored and that my plug-ins needed to be checked for compatibility and re-installed. Everything else was a blur, so I decided to sit down and pour over the "Read Me" docs so I could get a handle on the process.
Except when I look in the installation package, there is no "Read Me" docs.
WTF?!? It has been customary to include a "Read Me" with software packages since the dawn of time. What in the heck am I supposed to do now? Off I go to the support site so I can read the online docs... only to find out they don't seem to exist either. Oh no. Apparently the only way to get docs now is to download a freakin' PDF document. Shit. So I grab the "Installation Guide" PDF and do a search for "upgrade." Turns out the entirety of the upgrade documentation is this...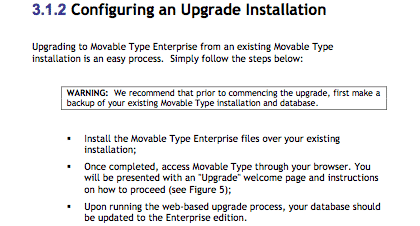 Okay, now I am REALLY confused. What is Movable Type ENTERPRISE?? Did they rename the product? Is that what I've downloaded? Did I make a mistake? I thought I selected the "Personal Edition" from the download menu? WHAT THE F#@% IS GOING ON?!? Yet another trip to the Movable Type Support site where I learn that there are TWO Mobvable Type products now. This was so much simpler when they just included the docs in a f#@%ing Read Me. Oh well, I decide to forge onward in the hopes that the installation instructions (or lack thereof) apply to both versions.
But where in the hell is the warning to save your search templates and plug-ins?? I also seem to remember that there is a dangerous file you are supposed to be deleting after the upgrade for security purposes... but they mention nothing about it. Great. I go ahead and double-back-up the things I think I remember are important, and just copy over everything else.
And then, while restoring my plug-ins, I notice that there are some new things there. One in particular, a "Google Search" plug-in, has me curious. Another trip to the Support Center so I can see what's up with that. I finally make my way to the "Included Plug-Ins" section and click on the "Google Search" link...
Ah yes. Some things NEVER change. Movable Type STILL has crappy and incomplete documentation, and has no problems at all installing default plug-ins without telling you what they do. I add yet another item to my "Things to Research in the Support Forums" list.
I overwrote all the old files, so permissions should be inherited and everything should work fine. I login to my installation, click the "Upgrade" link, and am quickly informed that everything went okay. So far, so good. I test a few comments and poke around a bit...lucky me, everything seems to have went just fine. Things seem slower, but that could be my imagination. Then I get to my search results page...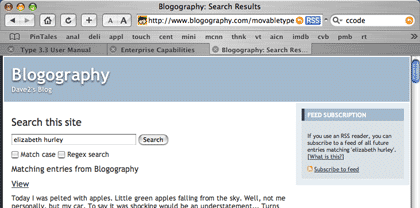 GAH!! First of all, this is NOT my search template. Second of all... readers can subscribe to search result web feeds?!? DOUBLE-GAH!! That sounds very processor-intensive to me. And since I've already been kicked off of two web hosting sites for MT's excess CPU usage, I absolutely don't want this on my blog. So I run to make sure I didn't overwrite my search templates...

Uhhh... nope. They're still there. I search the "Knowledgebase" for info on customizing the search templates, and all I get is an outdated reference to the "Default.tmpl" file that I've already got handled. Apparently they've changed the way search works and, of course, didn't bother to document it (I search for "search template" in the docs and get nothing relevant). An upgrade process that should have taken five minutes is already up to an hour. In desperation, I turn to the forums... only to find out that they aren't working. Every time I search for something, I get an error stating that "Search Flood Control" has been enabled, and get no results returned. I don't have the time to read the entire manual, so I check the MT ChangeLog only to find out that it only goes up to version 3.2.
Typical.
This sucks.
And so I end up doing what I always do when I get frustrated with Six Apart's incomplete, outdated, and totally shitty documentation... search over at Neil's World for a solution. Fortunately, Neil does indeed have an answer. Search templates are now editable in the "Templates" section of the admin interface, so I just copy the code over, click save, and I'm done. Simple. Thanks again, Neil!
And so then I move on to see if some of the more heinous bugs have been fixed in this new version, starting with the devastating "Export Entries" travesty that can bust all your links (which I've documented here). And the answer is? No. In fact, not only have they STILL not made provisions for the "basename" to be exported... but there doesn't seem to be an export for their new "Tags" field either! Lose your links, lose your tags. What else gets lost in the export? WHO KNOWS! Six Apart doesn't bother to tell you... the best they can do is (finally) add a warning that their export is "not comprehensive" and refers you to the manual for details. The manual, in turn, is even more vague. This is asinine and inexcusable. How f#@%ing difficult is it to export all the fields that constitute an entry?? It must not be TOO difficult, because even COMMENTS are saved! Do they honestly expect the average end-user to be messing around with database backups? Shouldn't there be a simple way within the system to backup your hard work just in case shit happens? Lame.
The whole rampant CPU overload abuse issue doesn't seem to be addressed. From what I can tell, all the custom feeds and new widgets crap only make a bad situation worse. Hopefully, by not using any of it, my situation won't get any worse (but searches seem noticeably slower, so who knows?). I guess we'll find out if I get another "goodbye" letter from my hosting company.
I have no idea what the thinking is here. Fundamental issues with the product (such as backup and documentation) are neglected so we can get widgets?!? It's utterly bizarre. Oh well. Priorities are obviously on making it easy to add bling to your blog, so I guess that's what we're stuck with. All I know is that 3.3 doesn't seem to do much for me (except make me once again regret that I haven't switched to WordPress).
Bah. Back to work...