The thing that makes Kevin Smith such a brilliant filmmaker is the way he can create a universe that seems more "real" than actual real-life. His characters always have witty, profound things to say, and are never at a loss for words in even the most bizarre situations. This was made clearly evident in his very first movie, Clerks which has long been one of my favorite films of all time.
Where Kevin falters is when he strays from his carefully-constructed reality and ruins the world he's built. This is why Mallrats, Jay & Silent Bob Strikes Back and Dogma will always be inferior to Chasing Amy and Clerks... sure they're entertaining, but the un-reality built into the movies spoil things for me. They rip me out of the film and turn me into a mere observer instead of a part of the story.
So which side of the fence does Clerks II land on? Well, it's a mixed bag. For the most part, it is everything I love about a Kevin Smith film, with only a few moments of distraction. An example... at one point in the movie, the luscious Rosario Dawson's character, Becky, is trying to teach Dante how to dance to The Jackson Five's ABC. It is a magical, heartwarming moment that's tempered with funny inserts of the other characters bopping along to the music. It's perfect. But then, for no reason at all, Jay and Silent Bob appear in pig-tails mugging for the camera as a dance number breaks out.
WTF?!?
There goes reality. No longer are you a part of the Clerks II universe which seems so very real... you are torn from their world with such violence that the moment is destroyed. And I just don't get it. Why? What purpose does it serve? I've forgotten all about Dante and Becky during a pivotal scene in the film and am all of a sudden watching people dance? It's almost tragic how horribly this nonsensical moment puts the brakes on an otherwise great film. Where was Scott Mosier when this travesty of a scene was edited into the movie?
Sadly, if it weren't for this really bad decision, Clerks II would easily slide right up next to Clerks and Chasing Amy on the Kevin Smith scale of greatness. As it is, it ends up somewhere in the middle. I want very badly for the DVD to come out so I can buy it, rip it, then re-edit it into the brilliant film it could have been.
Anyway, focusing on the positive now...
Clerks II opens with Dante and Randal still working their menial job as clerks at the Quick Stop. But when the store burns down, everything is thrown into chaos and they must start a new life working an even worse job at the McDonald's-inspired Mooby's restaurant. A year later, it's Dante's last day before packing up and moving to Florida with his fiance, but Randal (of course) has other plans...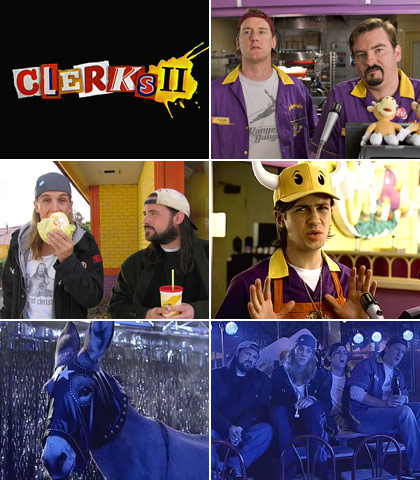 The dialogue is, as always, note-perfect. Randal's tirades are among my favorite moments in movie history, and we are treated to some hilarious new material as only he can deliver it. The wordplay between Dante and Randal is as sharp as it's ever been, and is worth the price of admission alone.
Rosario Dawson, who is an incredibly talented actress, slides effortlessly into the world of Clerks and looks frickin' amazing while doing it. Her very presence elevates the movie to another level entirely, and adds substance to scenes that could have otherwise gone very wrong.
But my favorite moments of the film (besides the "inter-species erotica," of course) are served up by Trevor Fehrman. His almost painful level of naivety as the Lord of the Rings-and-Transformers-loving geek Elias, come very close to stealing the show. His reactions to the ever-increasing insanity that's forever following Dante and Randal around offers up a fresh perspective on the story that wouldn't be nearly as entertaining without it.
After all is said and done, it's a highly entertaining film with only a few mistakes keeping it from greatness. I can only hope that this is not the last we'll be seeing of these characters, as the movie ends on a note that only leaves you wanting more.
Much like Clerks did over a decade ago.