Work was in Tacoma today, which is about an hour south of Seattle and the "TAC" in SeaTac International Airport. It's a noteworthy city to me because of one man: Dale Chihuly. I am a huge, huge fan of his stunning glass artwork, and Tacoma is a showcase for some of the best of it (probably because it's his home town).
Surprisingly, even though Chihuly is a huge backer of The Museum of Glass, his work in not a major part of the museum's relatively small gallery floor (you need to go to the Tacoma Museum of Art to see a permanent Chichuly exhibit). But you do get to see live glassblowing here and a few beautiful pieces of Chihuly art in the "Hot Spot" balcony...
From the museum, you can walk across the "Bridge of Glass" and see even more Chihuly, including a glass ceiling that is breathtaking when the sun is shining through it...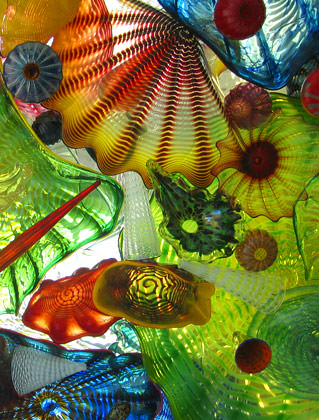 Once across the bridge, you can enter Union Station and see five amazing Chihuly installations in glorious open spaces...
Who could have ever guessed that Tacoma, Washington would end up being the "Venice of the West"?? I just consider myself lucky that such an amazing display is only three hours away from my home.
Anyway, then it was back to the airport so I could catch a quick 50-minute flight to Spokane (which is about 4-1/2 to 5 hours by car). My flight was delayed (what else is new) but I managed to catch an earlier plane. Once I arrived and picked up my rental car, I discovered something surprising with my Subaru Legacy... can somebody tell me when they started making semi-automatic cars?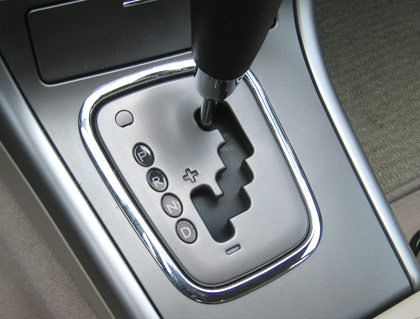 I call it "semi-automatic" because, while there's no clutch, you'll note that there is a "+" and "-" on the gear-box which allows you to change gears, just like a manual transmission. It's a very odd driving experience, but not bad once you get used to it.
First stop in Spokane was, of course, to eat THE BEST PIZZA IN THE WORLD at David's Pizza. I debated going out for a movie, but I've seen Pirates and Superman already, so there's not much else I want to see until Clerks II hits this weekend. Oh well. You won't hear me complaining about calling it a night and getting a few extra hours sleep.