If I were a Windows fan just now, I would be pissed.
Inconsolably, irrevocably, undeniably pissed... because this long wait for the new "Windows Vista" with delay after delay after delay was so totally not worth it. I finally got to take a look, and it's just. Not. Worth. It.
You could so easily dismiss my criticism as "tainted" because I am a self-admitted Mac-Whore, but the simple fact is that I WANT Windows to be good. I NEED Windows to be good. For one thing, if Windows is some hot shit, Apple has to work harder and push the envelope faster to keep the Mac OS ahead of the game. For another, I have to actually use Windows from time to time, and would like for it to be a good experience. Nothing would make me happier than to finally be raving about Windows.
But, alas, Apple has nothing to worry about. The Windows experience still sucks ass...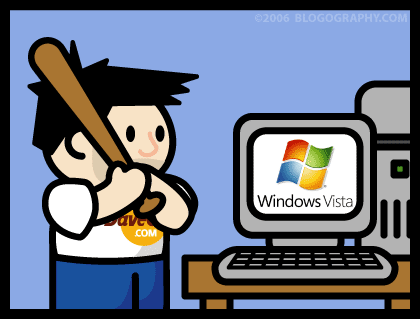 I am still trying to figure out what's so radically different in Vista. Sure they tried to make it LOOK more like a Mac than ever before (wheeee! frosty transparent windows!!)... and some processes are more "Mac-like"... but, for the most part, it's just more of the same. Even worse, neither of my two Windows machines (including one that's only a year old!) even supports the new OS fully, so I would have to go out and spend thousands of dollars in order to get a worse experience than my six-year-old Mac G4 Cube? WTF?!?
It still amazes me that people continue to claim that Macs are too expensive. From where I'm sitting, they are the best computer value on the planet... my little $700 Mac Mini is a superior computer experience RIGHT NOW (and does more out of the box) than a Vista machine costing twice as much eventually will. And then we have the NEXT version of OS X ("Leopard" v10.5) dropping soon... perhaps even before Vista ships (if it ever ships)... and heaven only knows what cool stuff is in store for Mac users then.
I may be a Mac whore but I am not a Mac idiot. My loyalty to Apple has been well-earned, but I am all about "the now" and maintain that if Microsoft were to ever release a superior OS, I would have no problem... no problem at all... dumping the Mac and switching to Windows (and the new Intel Macs make this possible at any time).
But Vista ain't going to do it.
Vista doesn't even come close.
Given my complete lack of Windows enthusiasm, I am too bored to write up any kind of review. A quick Google search reveals an article at ComputerWorld that does a better job than I could anyway.