Whenever I write about some of the freakier Blogography emails I get here, I'm assured of some blogger leaving a comment that says something like this: "at least people pay attention to what you say... I'd kill to get hate mail or ANY mail out of my blog". I then chuckle softly to myself knowing that they would feel quite differently if they actually had to put up with some of the crap I get.
As an example...
In an entry for last year, I had mentioned a "sex switch" (as in GENDER, you perv!) Halloween party from years ago where I dressed up as Wonder Woman. It was big fun and I put a lot of work into getting the costume right. In the comments I had mentioned that I didn't have any pictures of it, but feared that a friend might have taken photos and would post them on the internet some day. Shortly after that, a friend who reads my blog DID manage to track down a drunken pic of Wonder-Dave and emailed it to me. I got a laugh out of it, then filed it away so there will be something interesting to show at my funeral.
But then I get an email from some guy on Friday who said he was trying to build a Wonder Woman costume and wanted to know if I ever found pictures, because he'd like to see how I managed it. I wrote back and said that while I did have a photo, I'm afraid I won't be sending it, because it's personal and I don't want it posted to a pervy website or anything.
The next day I get a reply where he assures me that he won't share the pic, and he really would appreciate it if I could send it to him. I wrote back and politely declined, saying that I wouldn't give it to some of my closest friends, let alone somebody I've never met.
Saturday night I get yet another email. This time the tone is much different. He's hostile now, and wants to know why I won't trust him. Then, as if to encourage me, he attaches some pictures of himself in various costumes... some of which I cannot even begin to describe without inviting search engine hits I really don't want. Suffice to say that this guy likes to dress up as famous women, and looks really good as Cher.
I'm kind of scared now. There is no way I am sending the photo, and yet I really would like to diffuse the situation, so I draw up a cartoon for him and say "sorry, but this is the only photo I'll be sending"...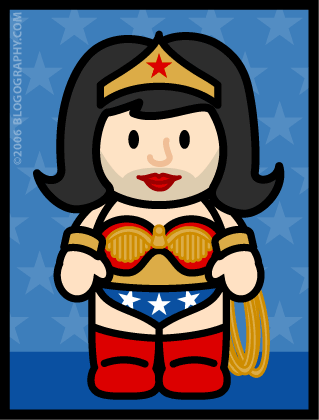 I didn't hear anything on Sunday, and thought that it was over.
I was wrong.
This morning I get this ranting email about how I am a judgmental prick. How I am a close-minded idiot who can't accept other people. Yadda yadda yadda. After reading it, I came to the conclusion that it takes a pretty big dumbass to think this of me just because I won't share a personal photo, and deleted it. I won't even bother to open anything else that arrives from him.
So yeah, I like getting comments and emails from my readers. Always have. But when things like this happen, I have to question my sanity in having a blog at all. The more things I write about and the larger my archives grow, the more search engines are going to set me up for freaky-ass search results. Then even more crap like this is going to happen.
I guess what I'm trying to say is be careful what you wish for, you might just get it.
On the up-side... doesn't cartoon Dave look FABULOUS dressed up as Wonder Woman?