It's 11:00am and I haven't gotten out of bed yet. Well, I did get up to go to the bathroom, but that was only because I had to. I simply must invest in adult diapers for Sunday mornings (and to think I was embarrassed to buy toilet paper).
Last night my trusty photo scanner broke. It was old and slow, so I suppose I should be okay with the situation... but it was a bummer to have to spend all morning trying to decide on a new one. I think I have it narrowed down to a cheap-ass Epson, because I couldn't find what I really want, which is a tabloid (11" X 17") scanner.
The entire ordeal started when I went to sort through my photo negatives so I can get another batched scanned by DigMyPics. Eventually I realized that a large number of film negatives are missing. This means that a huge chunk of my life exists only on paper photos that are going to fade and fall apart. This is not okay.
If the pictures are gone, how can I see what I looked like 20 years ago at Expo 86?
Or remember how beautiful a Maui beach is at sunset back when it wasn't jammed with people?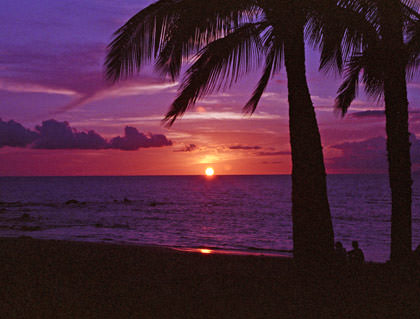 Sure photo scans are not as good as having the film negatives scanned directly, but I guess I have the memories to go with them, so it's better than nothing. I wish I could go back in time and hand myself a digital camera.
Okay, time to eat a Pop-Tart for breakfast...