She turned to the man standing just there and opened her mouth as if to speak. Somehow sensing that words would never adequately express the love in her heart, she gently laid her head upon his shoulder and began to weep. Holding the woman tightly as night descended upon them, the man comforted her as best he could. They were alone now. The tourist crowds had long since departed into the sunset, ill-prepared for the chill that spread through the air like a ghost. Though the woman's legs were weakened by her desire, his arms held her strong. Savoring this perfect moment, she knew then that she would never fall. Never ever ever fall again. And just as she was beginning to hope that the moment would never end, the man let loose with a mighty fart, the reverberations echoing cleanly in the crisp night. He instinctively looked around for a dog to blame but, alas, there was none to be found. The spell broken, they drift apart now, only their fingertips touching as they walk away into darkness.
Ahem.
Yeah, sometimes I have no idea either.
The entirety of my Sunday evening was spent trying to assemble a T-shirt order for everybody who won or purchased them. After six hours getting everything straightened out, it somehow all came together in a massive pile of PayPal receipts and emails...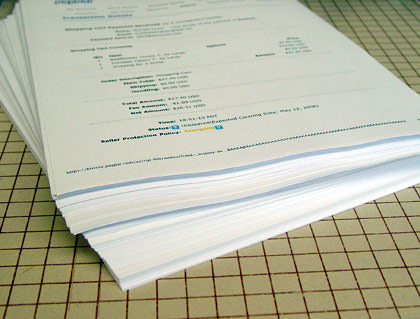 My task was made considerably more difficult in that nearly one-third of the orders never resulted in a PayPal email notification, so I had to go back through all the orders again to make sure my count was correct.
The GOOD news is that I am finally finished now, and my shirt order has been sent in. I am hopeful that the distributor has everything in stock so I can ship everything out by the end of the month (I am getting tired of all those CDs, books, and DVDs cluttering up my dinner table). I promise to send out an email once I have a date to share.
There has got to be a better way to do this next time. Order counts were quadrupled from last year, and I was taken completely by surprise at the amount of work it was going to be. Heaven only knows how many trips to the post office I'm going to have to make once the shirts arrive.
And I do it all for you, dear reader. All for you.