I have wasps.
Lots of wasps. They built a nest out on the tiny little deck at the back of my apartment. A big one. I didn't want to hurt them but, since I'm paying rent here, they're the ones who are going to have to move. So I whacked the board that the nest was affixed to with a broom handle, causing it to fall down. I figured if the nest was exposed, they would abandon it and go make a new one somewhere else. It was a good plan.
Except they didn't abandon it. Instead they built a sun porch and remodeled the dining room. They're not going anywhere.
And they really hate me now.
I'm kind of afraid to go to sleep at night, thinking that they might find a way inside to seek revenge. I know I certainly would if somebody beat the shit out of my home like that...
And the reason I know all about revenge is because I have decided to start carrying a chain saw in the trunk of my car. There's a lot of times that I have found myself in need of one, so now I'm going to make sure I'm prepared when the situation calls for it. Like this afternoon at the grocery store.
Parking was at a premium. Almost every spot was filled. It was our very first hot day of the season, and everybody and they're dog decided to buy ice cream and have a barbecue. All I wanted was a carton of milk and some eggs, but I couldn't find a spot. Not because there weren't spots to be had... but because people are idiots.
I now present... HOW TO PARK YOUR FRICKIN' CAR!!!
Isn't that nice? They have positioned themselves squarely in the center of the space, leaving free and easy access to the spaces beside them. But not everybody is this smart...
So you see... here is where I have a problem. The person who parked this car is clearly an idiot in desperate need of having their shit ruined.
Hence the chain saw I'll be carrying in my trunk from now on...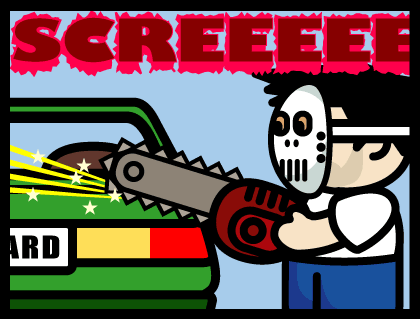 The hockey mask is not a requirement, I just think it looks like a fun thing to wear when cutting stuff up with a chain saw.
Anyway.
For the fourth night in a row, I am not able to sleep. I was joking about the wasps keeping me awake, but not about the insomnia. I don't know how I am going to function tomorrow if I can't get at least a few hours rest tonight. But hey, if I wait two minutes, it will be tomorrow, and I'll already have my blog entry done for the day. Go me.
Wait a second... do you hear that buzzing noise??