This morning I got a phone call from a fellow designer who wanted advice on how to best run a straight pattern around the edge of a circle. There are many ways to approach this challenge, but I told her my favorite way is to dice the design into pieces and turn the pieces into a font. Then you simply type the pieces around a circle. It's a lot of work, but it gives you the most flexibility.
After thanking me for the help, the conversation took a curious turn...

Samantha: So what are you going to do for CSS Reboot this year?

Dave: Uhhh... what's that?

Sam: It's a redesign for you web site using web standards.

Dave: Ah, well my blog is already standards-based.

Sammy: Yeah, but you've had the same design forever. Don't you want to try something new?

Dave: Not really.

Sam-O: Well that's disappointing.
And I suppose that deep down it's disappointing to me too. With the exception of adding rotating cartoon headers, changing the background to black, and adding tabs... the design for Blogography is pretty much the same as it's always been...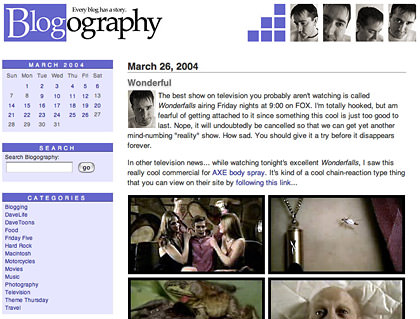 But here's the problem... I like it exactly how it is now. It's clean, simple, and allows the content to have prominence. About the only thing I would change would be to add "MaxWidth" to prevent everything from getting too spread out on really wide displays. But Internet Explorer doesn't handle it properly, so I guess there's nothing to be done.
So, to everybody who is bored with my design, I'm sorry to report that I won't be changing it any time soon.
Doesn't everybody read their blogs via web feed anyway?