I wish I had a dollar for every time I've dropped the F-Bomb today.
Nothing, and I mean nothing has gone right today. On top of all that, my internet connection has been flakey (at best), so being able to catch up on email and the various blogs I enjoy has been an exercise in futility. At first I was blaming my DSL connection, but now it looks like it must be my piece-of-crap DSL/wireless hub that's the problem.
I am very close to soaking it in gasoline and lighting it on fire... but I'm fairly certain that this would void my warranty.
And so I spend my time swearing instead...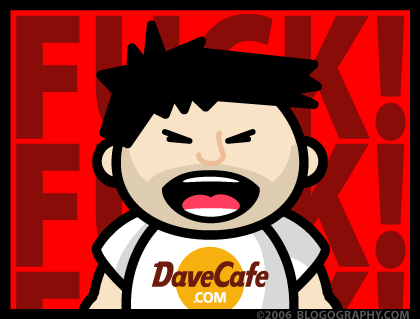 And to top it all off, I get a call from Bad Robert informing me that a friend of ours whom we haven't seen in months had died back in February (isn't it time that they invent a cure for cancer?). He was an incredibly generous and decent human being, and it makes me sad to know that somebody like him is gone from this earth.
Robert then goes on a rant for ten full minutes about how he wishes that he would win a billion dollars so that he could quit his job and devote the rest of his life to hunting down spammers and killing them. It almost makes me wish that I had a billion dollars to give him.
After I hang up the phone, I call another one of our friends to let her know about the death, only to learn that she lost her job last Friday. Her position has been outsourced. This leads me to wonder if there is any job that WON'T be outsourced in the near-future. I picture a day when you pull up to a McDonald's drive-through and somebody from India answers on the speaker-box. Tech-sector jobs (which we were all told would be the future of employment in America) are disappearing at an alarming rate. Pretty soon the only job left will be for lawyers, and then everybody will spend their time suing each other to make a living. Sounds like Utopia to me.
Ack.
Internet connection willing, I hope to have the Artificial Duck Store open again tomorrow night. Then everybody can pre-order their $10-off shirts and be blissfully happy.
Hey, given what happened today, I fully believe "happiness" is an entirely relative term.