As great as Blogiversary III has been, I am secretly relieved that it is all over. Usually a blog entry only takes about 10 minutes for me to write up (20-25 at the most if I decided to draw a cartoon), but the past two weeks of "Lost Bloging" and "Blogiversary" antics have taken HOURS out of every day that I am very glad to have back. After all, I've got a box full of Batman Lego that's not going to put itself together.
Drawing this year's prize winners was more painful than last time. I consider many of those who entered to be my friends, and it kills me that everybody can't win something fantastic. I guess that's why I don't have the guts to draw the names myself, and have to get somebody else to do it. I am such a weenie. I need to either stop caring, or become a billionaire. Anyway, thanks to everybody for their kind words... win or lose.
And now for the thing you've all been waiting for since seeing the title of this entry. It's time for porn!
Well, kind of...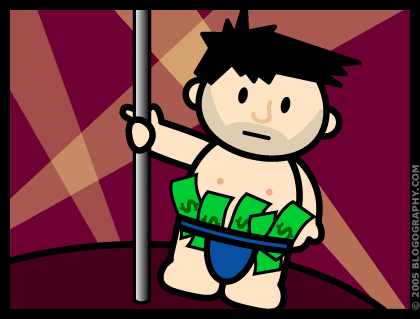 Every once in a while I get some kind of porn catalog in my mailbox. I think I owe this to Bad Robert, who signed me up for something a year ago as a joke. Its an automatic habit to toss this stuff in the garbage, because once you've seen one porn catalog you've pretty much seen them all. So this weekend while I was sorting through my mail, I ran across a Priority Mail envelope with porn stuff inside and tossed it. But after I had thrown it away, I noticed that something was different. A second look showed me that it was NOT a porn catalog.
It was a job offer.
And, before you let your mind wander off in a totally wrong direction, let me clarify that.
It was NOT an offer for me to appear in porn. Sure I have a great ass, but I don't think anybody would want to see me in anything porn-related. No, it was a job offer to do some graphic design work for a porn company. A guy I used to work with had forwarded it to me to see if I was interested.
And if I wasn't so totally backlogged, I would seriously consider it.
But even though I decided I couldn't take the job, I did decide to take a look through the promotion kit. And it was then that I noticed something entirely shocking... women are not the only ones who are practicing "nether-region landscaping". Apparently male porn stars are now enamored with the idea of shaving everything down to a 1-inch square. Like a penis soul-patch or something.
That's some bizarre shit right there.
Yet another compelling reason to stick to more "porn-efficient" all-lesbian action, I suppose.
And, in a segue I never thought I'd be making... we go from porn to Betty White erotica.
Well, kind of...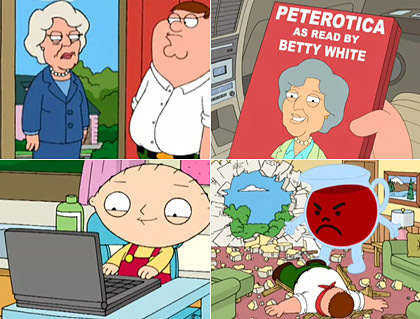 Family Guy had a brilliant appearance by Betty last night. Once again, she totally kicked ass and stole the show. Whoever thought to cast her as the "books on tape" reader for Peter's erotic novel is a genius. I maintain that Betty White should make guest appearances on ALL television shows. And can somebody tell me why Disney/Pixar hasn't cast her as the voice of a cartoon character yet? Betty rules...
Welcome to Peterotica on tape! I'm Betty White reading The Hot Chick Who Was Italian, or maybe Some Kind of Spanish by Peter Griffin. Chapter One: "Oh God you should have seen this one hot chick. She was totally Italian. Or maybe some kind of Spanish...."
Along the way, we also find out that Stewie is a Mac user, and are treated to an appearance by the pre-penis-weilding Kool-Aid man. I love that show.