TIME TO CELEBRATE! Okay then, all the contests for the Blogiversary III Kick-Ass Online Celebration have been closed. Thanks again to everybody who participated!
YOU ARE A WINNER! Anybody who voted or entered in a competition will get $10 off any regularly-priced T-shirts from the Artificial Duck Store (shipping not included) so, when you look at it that way, everybody wins!
Okay... here I go... when I return, I'll have a list of the winners!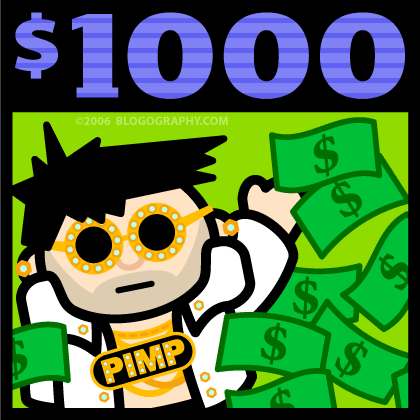 And I'm back! Congratulations to everybody who nabbed a prize! I tried to use commenter names, where they exist (and if I could find them), but all winners will be receiving an email confirmation later today in case there is any confusion.
READ with DAVE!
READ GRAND PRIZE WINNER: Apricoco.
READ RUNNER-UP PRIZE #1: Run Jen Run.
READ RUNNER-UP PRIZE #2: Jonathan W.
LISTEN with DAVE!
LISTEN GRAND PRIZE WINNER: Chase.
LISTEN RUNNER-UP PRIZE #1: Pauly D.
LISTEN RUNNER-UP PRIZE #2: Hannah.
WATCH with DAVE!
WATCH GRAND PRIZE WINNER: Jodi F.
WATCH RUNNER-UP PRIZE #1: Chanakin.
WATCH RUNNER-UP PRIZE #2: Nicole A.
STYLIN' with DAVE
The following ten winners get a FREE T-shirt (not including shipping charges) from the Artificial Duck Store...
Cat J. W.
Kilax.
Marc Z.
MichaelSean.
Ninja Poodles.
Heather H.
Therese N.
Chaz L.
Mikey M.
Wade L.
And the T-shirt which got the most votes? Yeah, it ended up being "Zombies Ate My Brain" by quite a margin...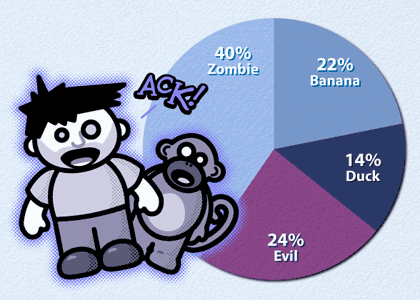 From the surprising number of voters who turned out, every design actually got enough votes to be printed... even for just a limited edition run (which I could offer at discount). Depending on how many people respond to the $10 OFF deal, I may end up having other designs printed too.
HOW WINNERS WERE SELECTED: A list of everybody who entered each contest was printed out on little cards. These cards were cut apart, dropped into a plastic bucket, and shaken thoroughly. I then had somebody who has absolutely no association with Blogography draw names. This was repeated for each contest. After the READ, LISTEN, and WATCH prize winners had been drawn, their names were removed from the T-shirt drawing to maximize the number of winners we get (no need to be greedy, since they've already won a T-shirt anyway!).
I'M A WINNER! NOW WHAT? Your winning entry will be confirmed via email with instructions on how to claim your prize. The new shirts will not be printed until mid-May, so prizes will be shipped after that time. Those receiving a $10 OFF coupon will be receiving a confirming email when the Artificial Duck Store re-opens on Wednesday so they can pre-order their shirt choice.
THAT'S A WRAP! Though the original idea was to come up with $1000 in prizes to give away, response to the T-shirt vote exceeded my wildest dreams. If everybody who voted claims their $10 OFF Coupon, the prizes given away this year end up totaling just over $4000. I cannot imagine what will happen for Blogiversary IV. One thing I am considering for next year is having more smaller prizes instead of putting so much money into the Grand Prizes. This way, more people would win... but the down-side is that my shipping costs would increase by quite a lot. Hmmm... something to think about over the next year!
Thanks again everybody!