Cheaters! I have cheaters reading my blog!
Ever since moving to a new hosting company, I've been closely monitoring my error stats to see if there's anything that needs to be fixed. Today when I checked, I noticed a bunch of people typing in "lostblogs/daythree.html" and "lostblogs/daythr.html" and "lostblogs/day3.html" - apparently looking for the next "lost blogger" entry a day early (even though it didn't exist yet). Cheaters!
Ha! I can only DREAM about being organized enough to write something a day in advance.
Sorry, but everything at Blogography is baked fresh daily, baby!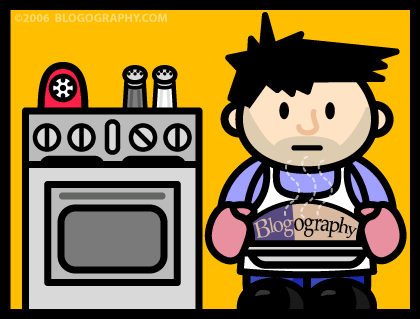 Most of my entries are written first thing in the morning (like today!). I wake up, grab my trusty PowerBook to check my email, and something pops into my head to write or draw. If it turns out okay, I post it. But most of the time I let it sit until my lunch break so I can read it over and make sure I didn't say anything stupid. But since I always say something stupid, I usually try to make it less stupid and then post it. On rare occasions I can't think of anything to write about, and it's not until dinnertime that I get around to writing. In any event, I don't write ahead. Even while lost-blogging, which I'll be cooking up after this.
Oh, and before I forget... I have the bestest blog posse ever (yes, this means you!). Two days ago I was lamenting over my broken links and got a suggestion from Blogography reader Wejn on how to fix it. When I didn't understand what to do... he wrote the fix for me. I've installed it, and now my problems are solved. How cool is that? Thanks Wejn! An extra Blogography cookie for you today, fresh from the oven!
And while I am passing out cookies, I cannot forget about Bre, who left the 7000th comment here yesterday. Congratulations Bre, You just won a Blogography T-Shirt! Email me your address and the size you want to claim your prize.
And in non-baking-related news...
There's another "Lost Blogs" entry over at DaveSpace! Click here to read it!
I am hopelessly addicted to reading all 40 participants now, and many of them are getting really interesting!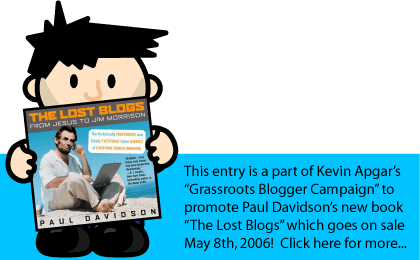 Those of you wanting to make guesses as to my "lost blogger's" identity should send me an email at the address in my sidebar. Comments with guesses will not be approved! Who knows, there might be a prize for the first person to guess correctly! But remember the rules... you only get ONE GUESS... so make sure you're sure about who it is before contacting me, because any subsequent guesses by the same person will be tossed out. Good luck!
If you want to learn more about Pauly's book (or pre-order a copy), visit The Lost Blogs site!