Blogs are so cool.
Originally, I liked having a blog because it was a way to let my friends know where I was at and what I was doing. Then I liked having a blog because it let me bitch about stuff that was bothering me. Then I liked having a blog because the comments allowed me to interact with readers and find other blogs to read. Then I liked having a blog because of all the nifty people I was meeting.
And now?
Now I like having a blog because of free socks.
Yes! Free socks! A couple days ago I got a comment on my entry "I Want a Gun" from Jon, who runs a most excellent site called "Drive Right, Pass Left" (which is all about those dumbasses who drive in the left-side passing lane WITHOUT PASSING ANYBODY, which drives me insane). He was nice enough to send me a few stickers (one of which is now on my backpack), a license plate frame (which is going on my car ASAP), and a pair of socks with his site's logo embroidered on them...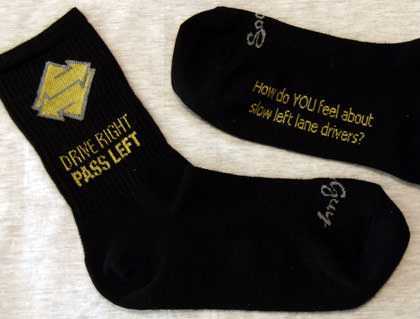 At first I thought that the socks were just a fun novelty, but I tossed them in the wash and decided to try them on today. HANDS-DOWN THE MOST COMFORTABLE SOCKS I HAVE EVER WORN! Seriously, they stretch-fit so there's no bunching in your shoe. The seams are imperceptible, so they don't rub against your toes. They have some kind of miracle fabric that keeps your feet cool. These are NOT some crappy novelty... they are truly awesome socks. Jon didn't cheap-out here, he went for "Sock Guy" socks, which I had never heard of, but am now in love with.
Naturally, I am so jealous of Jon and his personalized socks that I can barely stand it. I want custom socks of my own!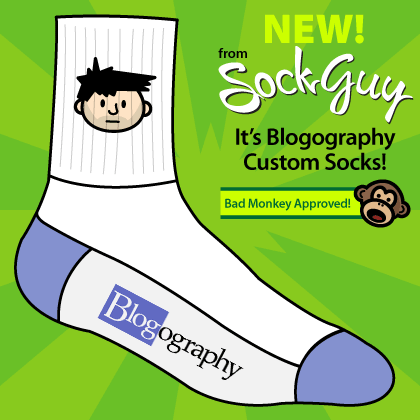 Unfortunately, I don't have $650 burning a hole in my pocket to place a minimum order. Oh well. I'll just have to be happy dreaming of socks. Thanks Jon!
And in non-sock-related news...
It looks as though another "Lost Blogs" entry has appeared over at DaveSpace!
I'm kind of embarrassed to admit that out of all the participating bloggers, I've guessed just ONE "lost blogger", and even that one I'm not 100% sure about.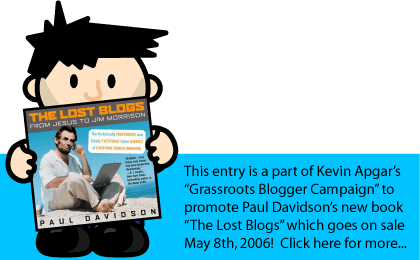 Those of you wanting to make guesses as to my "lost blogger's" identity should send me an email at the address in my sidebar. Comments with guesses will not be approved! Who knows, there might be a prize for the first person to guess correctly! But remember the rules... you only get ONE GUESS... so make sure you're sure about who it is before contacting me, because any subsequent guesses by the same person will be tossed out. Good luck!
If you want to learn more about Pauly's book (or pre-order a copy), visit The Lost Blogs site!