When I was younger, I had braces installed by one of the finest orthodontists money could buy. Unfortunately, he was a bit of a quack, and never managed to fix my teeth properly (particularly my lower teeth). I went back years later and he tried again, but his dumbass "solution" to remedy the situation just made everything worse. My teeth are now falling apart because of uneven pressure points. Every once in a while, I bite wrong and pieces of tooth break off that I then have to go get fixed.
It really sucks ass. And, because of all these problems, I hate going to the dentist with a passion.
So can you guess where I got to go first thing this morning?
The only thing worse than the actual work being done is the bill that follows. Argh.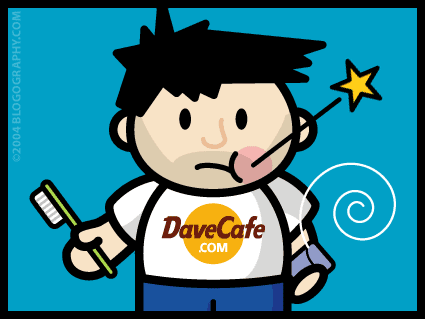 Needless to say, I am not a happy camper today.
And in non-tooth-related news...
I am way behind in reading my email. So totally behind that I probably won't be caught up until Easter. I promise that I am not ignoring those people who are patiently waiting for an reply... but I've just been really busy trying to get all my work done so that my half-day at the dentist doesn't make me have to work the holiday weekend.
Of all the lost bloggers, I've only identified eight (I think). I'm not good at this game at all, but remain surprised that nobody has guessed my historical figure yet. I suppose not everybody looks at things like I do, or expresses themselves like I do, so they are missing the clues? Oh well, since tomorrow is the last day, I'll be revealing just about everything...
Oh yeah, the penultimate "Lost Blogs" entry is now up over at DaveSpace! Click here to read it!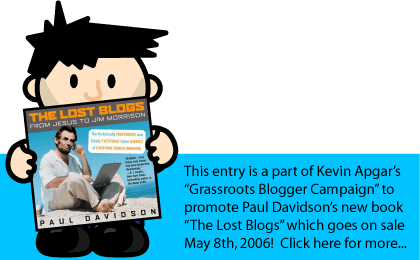 Those of you wanting to make guesses as to my "lost blogger's" identity should send me an email at the address in my sidebar. Comments with guesses will not be approved! Who knows, there might be a prize for the first person to guess correctly! But remember the rules... you only get ONE GUESS... so make sure you're sure about who it is before contacting me, because any subsequent guesses by the same person will be tossed out. Good luck!
If you want to learn more about Pauly's book (or pre-order a copy), visit The Lost Blogs site!