This morning I had set my alarm an hour early to 4:30am so that I could write my first "Lost Blogs" entry. As it turns out, that was hardly necessary, because I was awoken by a loud pounding on my door shortly after 4:00am. "Mr. Simmer? Mr. Simmer are you there?" a voice shouted from outside. Worried that the racket would wake up my neighbors and give them even more reason to torment me, I rushed to answer.
Standing there was a smallish man with a pink face who was dressed in a drab, wrinkled suit and a brown overcoat that was too big for him. Without an invitation, the man (who introduced himself only as "Professor Blattenthorp") rushed passed me to the dining room table, talking a mile a minute.
It turns out that professor had purchased a book at an estate sale, and found the last page of a letter inside of it. It was undated, faded, and badly torn, so the author was not known. The only thing that could be identified was my name, and a web address for Blogography! The letter appeared to pre-date the internet by a wide margin, so the professor was quite anxious to know about it. The contents of the document seemed wildly impossible, yet all evidence pointed to it being real...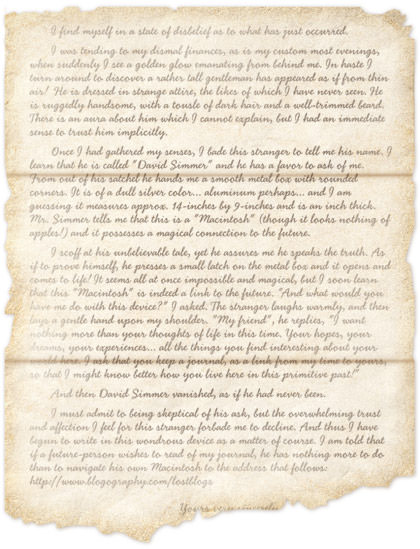 The professor had written out the contents as follows...
I find myself in a state of disbelief as to what has just occurred.

I was tending to my dismal finances, as is my custom most evenings, when suddenly I see a golden glow emanating from behind me. In haste I turn around to discover a rather tall gentleman has appeared as if from thin air! He is dressed in strange attire, the likes of which I have never seen. He is ruggedly handsome, with a tousle of dark hair and a well-trimmed beard. There is an aura about him which I cannot explain, but I had an immediate sense to trust him implicitly.

Once I had gathered my senses, I bade this stranger to tell me his name. I learn that he is called "David Simmer" and he has a favor to ask of me. From out of his satchel he hands me a smooth metal box with rounded corners. It is of a dull silver color... aluminum perhaps... and I am guessing it measures approx. 14-inches by 9-inches and is an inch thick. Mr. Simmer tells me that this is a "Macintosh" (though it looks nothing of apples!) and it possesses a magical connection to the future.

I scoff at his unbelievable tale, yet he assures me he speaks the truth. As if to prove himself, he presses a small latch on the metal box and it opens and comes to life! It seems all at once impossible and magical, but I soon learn that this "Macintosh" is indeed a link to the future. "And what would you have me do with this device?" I asked. The stranger laughs warmly, and then lays a gentle hand upon my shoulder. "My friend", he replies, "I want nothing more than your thoughts of life in this time. Your hopes, your dreams, your experiences... all the things you find interesting about your world here. I ask that you keep a journal, as a link from my time to yours, so that I might know better how you live here in this primitive past!"

And then David Simmer vanished, as if he had never been.

I must admit to being skeptical of his ask, but the overwhelming trust and affection I feel for this stranger forbade me to decline. And thus I have begun to write in this wondrous device as a matter of course. I am told that if a future-person wishes to read of my journal, he has nothing more to do than to navigate his own Macintosh to the address that follows:
https://www.blogography.com/lostblogs

Yours very sincerely,
???
Naturally, I know nothing about it. The "ruggedly handsome" part certainly sounds like me though, and so I can only assume that this is a reference to my future-self or something. But, despite it all, I tell the professor that it is absolutely impossible for there to be such a URL on Blogography, because I just moved hosting companies, and would have seen it. He then tells me that he verified the link in the document immediately after finding it, which was just around midnight. After that, he drove straight from Idaho to my door seeking answers.
I laughed in his face, because I was certain that such a link does not exist at Blogography, and decided to prove it to him. I wake up me beloved Macintosh G4 Cube and type it in.
It turns out that the link is real.
I don't know how. I don't know why. But it's there: https://www.blogography.com/lostblogs is an actual, working URL on my site.
I have no idea what is happening, but it seems that the "me" from the future has decided to take care of this "Lost Blogs" thing for me. So, as it turns out, I get to play along with the rest of you in an attempt to figure out the identity of this "lost blogger". I can only guess that new entries will appear every day this week, but you can read the first one here.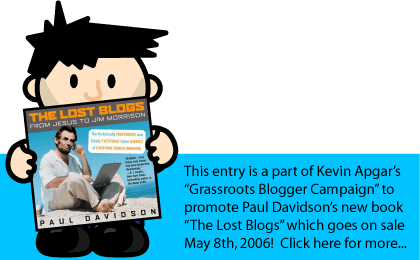 Those of you wanting to make guesses as to this "lost blogger's" identity should send me an email at the address in my sidebar. Comments with guesses will not be approved! Who knows, there might be a prize for the first person to guess correctly! But remember the rules... you only get ONE GUESS... so make sure you're sure about who it is before contacting me, because any subsequent guesses by the same person will be tossed out.
If you want to learn more about Pauly's book (or pre-order a copy), visit The Lost Blogs site!