Want to know the best thing about my Kick-Ass Blogiversary III Celebration? Not the fact that I get to have some fun promoting my favorite books, music, and movies. Not the fact that I get to share cool new T-shirts with Blogography readers (at below-cost, I might add). And certainly not the fact that it's just a way to say "thanks" to everybody who has kept me blogging in the first place. Oh no! The REAL reason that I love it is because of all the wonderful people who have sent me such kind, encouraging emails!
My favorite was from the laughably misnamed chuckle-head "The Real Dave" who wrote to congratulate me on the clever scam I am running to steal email addresses so I can sell them to spammers! Here is my reply...
Dude! you SO got me all figured out! I mean, never mind the THREE YEARS I spent building up a reputation with Blogography... I am all about the scam now! Seriously, do you KNOW how much money that spammers will pay for a fresh email address? Well neither do I, but a quick Google search shows that I can buy 100,000 names for just $20, so I am guessing that I can get TWO WHOLE PENNIES for the hundreds of names I scammed! Wow... and here I thought all those people claiming to make money on the internet were full of shit! Yet here I am making 2¢ in just a week! And just think... another one-thousand-two-hundred-and-sixty-eight years of this, and I can retire! Woohoo!

Since you were the only one brilliant enough to uncover my secret plan, THREE YEARS IN THE MAKING, I feel it's only fair that I share my profits with you. Please forward you address in all haste, and I'll get that penny right out to you!! You sir, are a frickin' GENIUS!!
But that wasn't enough. He wrote back again to tell me "nice try" and that anybody can take pictures of crap from Amazon and claim to have prizes... I'm not showing any REAL merchandise and so this is just a scam. Here is my reply...
OMFG, DUDE! You have just so totally blown the lid off of my Master Plan! Congratulations, because you are the Austin Powers to my Dr. Evil... THERE REALLY IS NO MERCHANDISE! Ha ha ha ha haaaaa! SUCKERS!! Please let me know when you run for president, because you totally have my vote for reals!
So, to everybody who entered, I thought I would just let you know that this was all an elaborate scam before you have to hear it on FOX News or something. I threw away THREE YEARS and sold you all out for 2¢, and it was totally worth it! And, to all of you who haven't entered yet, please continue to send in those emails! Who knows, if enough of you fall for this, I may get a whole 3&cent when this all ends on Saturday!
Now, if you will excuse me, I am going to go listen to my three new a-ha import CDs of Major Earth, Minor Sky... ALL AT THE SAME TIME!! BWAAH HA HA HAAAAH!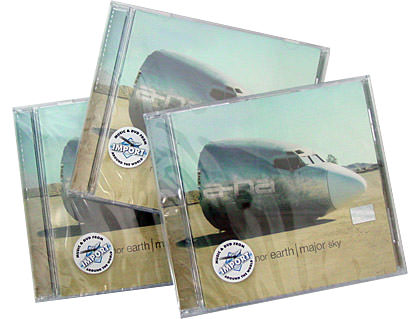 This is almost as good as the gal who wrote to tell me she hated my blog and its "nihilistic world view", but then proceeded to enter all the drawings! You rock girl! I so hope that you win!
Sometimes being an evil scamming genius is SO rewarding!
UPDATE: This just in from the peanut gallery: "I'm famous! In the interest of fairness you should tell your readers that I asked if you were selling email addresses to spammers. Asking is different than accusing. - The Real Dave". Touche my suspicious new best friend. Touche. And the answer is "yes!" Yes I AM selling email addresses to spammers... starting with yours. Those penis enlargement emails should start arriving any day now...