Before I jump into it, I am happy to announce that I found somebody to help me draw a winner in the runner-up T-shirt drawing from the 41 correct guesses I received. Congratulations to Gary, who joins Firda and Alexis as the lost blogger winners! And thanks again to everybody who took a guess. If you didn't win, don't be too sad, because there will be plenty of new opportunities to win something this week. And on that note...
w00t! My blogiversary is here! Back when I started three years ago, I never thought things would come this far. Blogography began as a way to stay in touch with a half-dozen friends while I travel, but has turned into something much more (for anybody who is interested, I wrote all about my humble beginnings last blogiversary). Even more amazing to me than having lasted this long, is that so many have come along for the ride. Thanks to all of you who have made the past three years such a great experience!
And to mark this momentous occasion, it's time for the Blogiversary III Kick-Ass Celebration...

Over the next four days, I'll be giving away fabulous prizes valued at over ONE THOUSAND DOLLARS...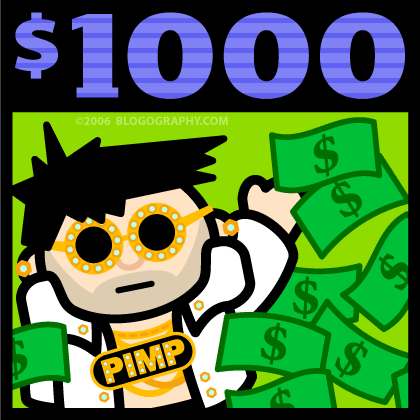 Yes, you read that correctly. Once again I'll be passing out loads of stuff that I think makes life worth living. I am giving back to you, dear reader, for all that you've given to me. So write yourself a note and don't forget to drop by every day for the next four days to check out all the cool crap you can win... and be sure to check back Sunday to see if you've won it!

Good luck everybody!
And now it's time for the rules. You might want to take a minute to read them, because I'll be referring to this stuff each day...
Dave Approved!
All of the merchandise being given away is new and factory-sealed. This is not a bunch of crap that I don't want, but fresh copies of merchandise I already love and own. All prizes are offered "as-is" and I make no warranty or promise as to their contents or condition of arrival. Any problem you experience with the merchandise will need to be handled directly with the manufacturer. If necessary, you can request to have individual prizes removed from prize packages if you do not wish the item(s), or are living somewhere which prohibits the item(s).

Blogiversary Contest!
Last year, all you had to do was send an email in order to be entered into the drawings. This year, you're going to have to work for it! The final three day's prizes will be accompanied by a contest. In order to be entered in the drawing, you'll have to pass a little test first! HOWEVER... if you have left ten or more comments here between April 25th, 2005 and April 16th, 2006... you are automatically eligible to enter, and don't have to take a quiz at all. This is just my way of rewarding those of you who make my blog so much better by leaving comments (if you are unsure about how many comments you've left, just go to the search page, enter your commenter name in the search box, then select "search comments only" and count the results that fall within the dates given). Frequent commenters get other benefits as well, so stay tuned!

Prize Availability!
Some of the merchandise being offered as prizes is made-to-order, and will not be available until mid-May. NO PRIZES WILL BE SENT BEFORE THIS TIME! If you are expecting immediate shipment of your winnings after Blogiversary III Week, don't bother entering, because it ain't gonna happen. I will make every effort to send the prizes exactly as described or shown. However, if due to unforeseen circumstances I am forced to make a substitution, I reserve the right to do so. Sorry, but winners are not allowed to request a cash prize or make substitutions.

Winner Notification!
Winners will be announced here on Sunday, April 23rd using their first name and last initial. If you would prefer to be identified by a nick-name, it's not a problem... just let me know when you send in your entry. Winners will be notified via the return email address in their entry (please make sure your address is valid!).

Shipped to Order!
All of the larger prize packages (i.e., those valued at $50-$250 or more) include domestic shipping to the 48 States of the Continental USA via surface courier. If you live outside of the Continental USA, you can still enter the contests and drawings, but you will have to share in the shipping charges. Any amount above the cost of domestic shipment will be your responsibility. I will post estimated costs to different locations to try to help you decide whether it's worth it for you to enter. PLEASE DO NOT ENTER IF YOU DON'T WANT TO PAY YOUR SHARE OF THE SHIPPING COSTS! You are also responsible for any customs duties or taxes (if applicable). Insurance is not included in ANY shipment, so if you wish to insure your winnings, you have to pay for it yourself.

All rules are subject to change without notice
Sure I am wishing good luck to everybody, but I especially want you to win! Yes, you! Have fun.