Well, The Lost Blogs Grassroots Blogger Marketing Campaign is now over, and I am exhausted. On top of having to write two entries every day, I also made daily rounds of the 40 blogs that were participating, which left little time for anything else. I have 63 non-spam emails in my in-box. I have hundreds of entries from the 224 web feeds I subscribe to that need to be read. A big chunk of my Easter Sunday is going to be spent in bed with my PowerBook just trying to get caught up.
But it was all worth it. I had a great time, and there were some very interesting reads among the participants. In fact, I dare say that I did not find a single one that didn't entertain or educate me in some way. On top of all that, lounging around in bed reading email and blogs isn't the worst way to spend the day.
And speaking of a good way to spend time, I went to see the film Thank You for Smoking and enjoyed it immensely...
This is not a movie for everybody, but I was completely hooked in the opening minutes and was laughing out loud more than once during the film. The story revolves around Nick Naylor who is a lobbyist for big tobacco, and spends his days defending the right of people everywhere to smoke and get cancer. And though the movie features great guest spots by William H. Macy, Rob Lowe, and many others... the really interesting stuff happens when Nick is with his son. That's where you get to understand why Nick is the way he is and how he is able to do the things he does. It's in these moments that a one-note story with only superficial satire becomes a brilliant commentary on the human condition.
Most of the praise for how much I liked this movie can be placed on Aaron Eckhart, who's portrayal of Nick was note-perfect in every scene. He approaches each new situation with an almost child-like sense of wonder that never for a moment has you disliking the character despite the "morally flexibility" in things he does. Eckhart has a scene where Nick gets to fly on a private jet for the first time. Even though the scene itself does absolutely nothing to progress the story, Eckhart speaks volumes for his character in the way he reacts to this new environment. Just one of many magical moments that make Thank You for Smoking one of the best films I've seen in quite a while.
And, while I am on the subject of Aaron Eckhart, can I just say it's amazing how he can completely change from movie to movie? He's like a chameleon who has me struggling to see him as anything except the character he's being at the moment. From In The Company of Men to Erin Brockovich to Nurse Betty to Suspect Zero... he somehow manages to elevate even crappy films like Paycheck and The Core to watchable fare. I can't wait to see what he does next.
In other good news, James Bow was kind enough to send me a review copy of his new book The Unwritten Girl...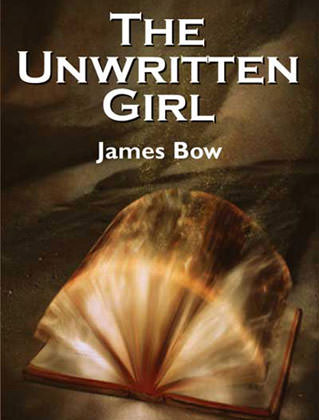 Because of how much stuff I've got going on, I had thought I would just read a chapter or two so I could say something about the story here, then read the rest once I got caught up with everything.
But one chapter led to another, and I didn't stop until I had read the whole thing (and once you've read the book, you'll understand why that's kind of ironic!).
The Unwritten Girl is a terrific fantasy-adventure read that's categorized as "Young-Adult Fiction" but, like Harry Potter, can easily be enjoyed by anyone. It tells the story of a young girl named Rosemary whose brother (literally) becomes lost in a book, and it's up to her and a friend named Peter to try and rescue him. What follows is a clever blend of fantasy and reality that kept me turning pages until the very end.
One of the things that I enjoy about James' writing is how his character dialogue seems so natural. I had mentioned once how envious I was that it was so easy for him to create such "real" people, only to have him assure me that he works very hard to get it right. This makes me feel better about how difficult I find it to write good dialogue, but now I can't help but wonder if he was just saying that to make me feel better. The Unwritten Girl certainly makes it seem effortless! In any event, congratulation James for a job well done, and I am looking forward to your next book!