SORRY! VOTING IS NOW CLOSED! No new entries are being accepted.
Every year I release a new T-shirt to celebrate my blogiversary. First there was the classic Blogography Logo T. This sublimely elegant piece of apparel is appropriate for even the most important occasions... from your wedding day to an audience with the Queen. Then came the Bad Monkey T. This cheeky statement of artistic vision is perfect for everything from dining with foreign dignitaries to making out with Paris Hilton. But one thing is for certain... no matter which shirt you choose, you're assured of being the best-dressed person in the room.
And now here we are a year later. So what's next?
I dunno. Why don't YOU tell ME?
This year I've got FOUR new Blogography designs, and it's up to YOU to vote for which one gets printed (close-ups of all four designs are in an extended entry)...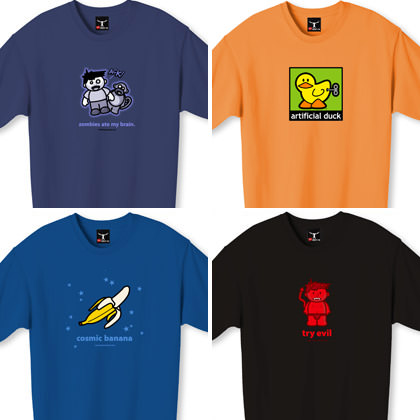 And since you are the one making the hard decisions, you're probably asking yourself "what's in it for me?"
Good question! How about this...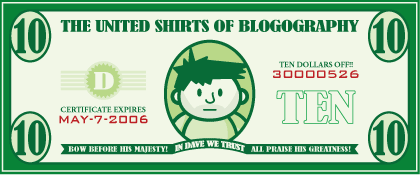 Everybody who sends in a vote will receive a valuable $10 OFF coupon to purchase any reguarly-priced shirt from the Artificial Duck store. That means you can pick up a classic white shirt for just $4.95* (+ shipping)... or the new color shirt for just $6.95* (+shipping). And these ain't no crappy iron-on designs... no way! Each shirt is custom silk-screened on premium quality Hanes Beefy-T's for the ultimate in comfort and durability!
BUT THAT'S NOT ALL! Every voter will ALSO be entered in a drawing with TEN chances to win a FREE* T-shirt of your choice... all you pay is the shipping charges!
SORRY! VOTING IS NOW CLOSED! No new entries are being accepted.
It's almost too good to be true! So how do you vote? It's easy!
Take a look at each design by clicking on the "extended entry" link below.
Decide on which shirt you like best.
Send an email to stylin@blogography.com with your vote (write your choice in the subject line).
Sit back and watch democracy in action! The winning design and ten FREE T-SHIRT winners will be announced on Sunday, April 23rd!
But HURRY... your vote must be received by Saturday, April 22nd at 9:00pm P.S.T. (Seattle time).
* Please note that this prize is for sizes S-XL. Larger sizes are available for an extra charge: 2XL is $1.00 extra, 3XL is $2.00 extra. Sizes bigger than 2X are not available in colors, but I'll be happy to print any design on a white shirt: 4XL is $3.00 extra, 5XL is $4.00 extra, 6XL is $5.00 extra.
Alrighty then! Take a look at the choices and get voting (one vote per person please!)...
ZOMBIES ATE MY BRAIN. No need to explain why you're wandering around in a daze, this shirt blames Zombie Dave and Dead Monkey for your lack of mental proficiency on a Monday morning recovery from a wild weekend! Beautifully printed on a spooky denim-colored Beefy-T...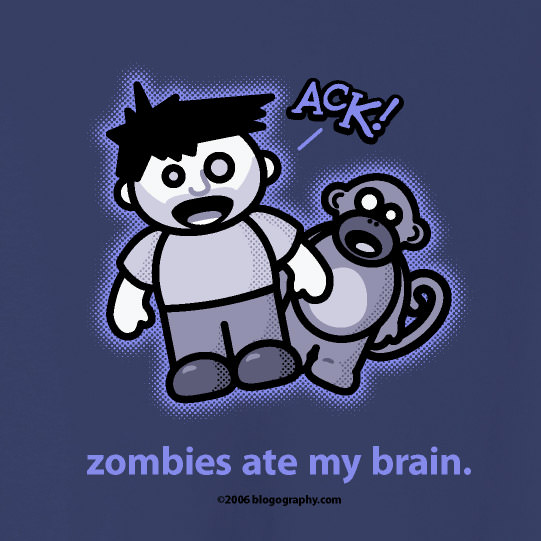 ARTIFICIAL DUCK CO. You asked for it, and here it is... the totally sweet Artificial Duck logo proudly emblazoned on a succulent orange Beefy-T!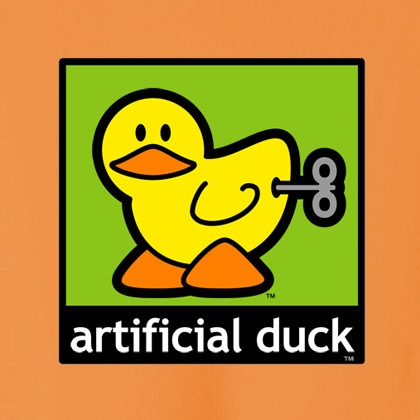 TRY EVIL. Invite your friends, family, and co-workers to join the dark side and give evil a try! This devious design has been diabolically printed on a wicked black Beefy-T!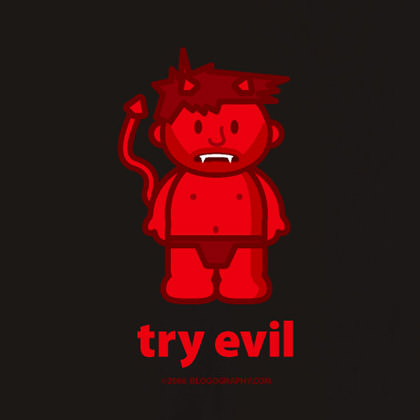 COSMIC BANANA. All bow before the Cosmic Banana in its celestial glory! Very soon, every DaveToon ever made (along with other toon-filled surprises) will be archived for easy viewing at CosmicBanana.com... you can get a jump start on things with this extraterrestrially blue Beefy-T!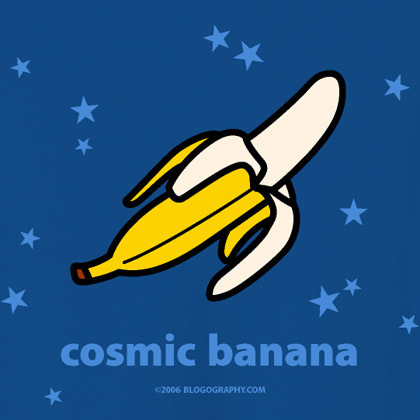 And there you have it! Sure they are all fabulous designs, but only one can win! Email stylin@blogography.com with your vote today, and good luck!
P.S. Feel free to shamelessly influence other readers with your choice in the comments section!