As I mentioned a while back, I'm going through kind of a Kool-Aid renaissance.
Lately I've been getting much bolder in my Kool-Aid choices, and have started to stray away from the classics (Grape, Orange, Lime, Tropical Punch) in order to try some of the freakier flavors they've got going on. First there were the "Kool-Aid Twists" which are blended flavors ("Swirlin' Strawberry Starfruit", for example). Then I experimented with "Kool-Aid Ice Cool" which adds a bit of tingle to the taste ("Arctic Green Apple" anyone?). And now I'm moving on to the "Kool-Aid Aguas Frescas" which are favorite flavors from Latin America...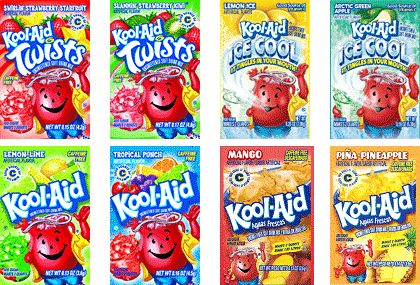 Last night was time for "Pineapple" which tastes about as unlike pineapple juice as you can get. I didn't care for it at all.
Until I added vodka to it.
Suddenly the pineapple-ish stuff became an exotic nectar of the gods. Which begs the question... is there any juice (or juice-like substance) that vodka doesn't taste good in? I like it in grape juice, orange juice, cranberry juice, pineapple juice, and any kind of fruit punch. I haven't tried it in apple juice yet, but something tells me that it will be equally tasty.
Much like a fresh episode of Project Catwalk with the delicious Elizabeth Hurley...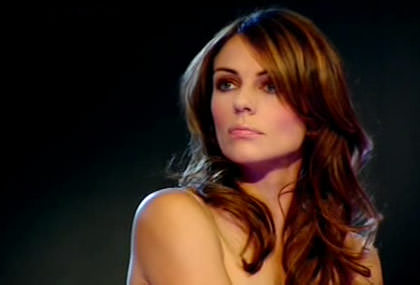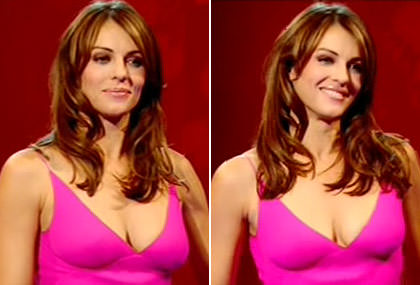 And speaking of alcohol, I need a new drink. I'm getting bored with the same old cocktails every time.
Here's the kind of stuff I like:
Jäger Bomber (Jäger & Red Bull Energy Drink).
Long Island Iced Tea (Vodka, Tequila, Rum, Gin, Triple-Sec, Sweet-n-Sour, Coke).
Hard Rootbeer (Capt. Morgan's Spiced Rum & Rootbeer).
Pinedriver (Vodka & Pineapple Juice).
Liquid Cocaine (Jäger, Bacardi 151, Goldschlager Cinnamon Schnapps).
Snakebite (Yukon Jack & Lime Juice).
Liquid Asphalt (Jäger &amp Sambuca).
Bronze Monkey (Vodka, Capt. Morgan's Spiced Rum, Orange Juice).
Jameson Irish Whiskey over Ice.
Any decent ice-cold beer (from the bottle).
Maybe I should create my own alcoholic beverage. I could call it the "Bad Monkey"...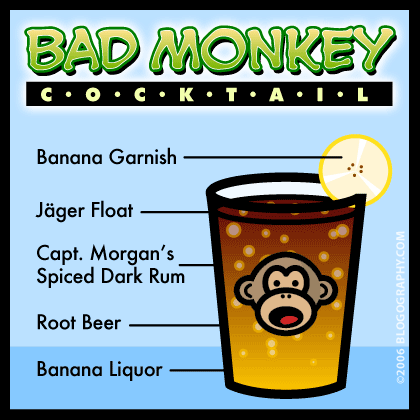 Too bad my lunch hour is almost up, because I would totally try drinking that.