Today I got an email telling me that my ICRA labeling is out of date. Truthfully, I don't think that labeling site content matters one bit, but if it will keep people from sending me an email because their kid stumbled across Blogography and ended up traumatized, then I have no problem doing it.
Just like last time, I am being very conservative, and applying labels that I don't necessarily agree with (better safe than sorry). The one thing I have changed is that I've blanketed all of this crap as "appearing in an artistic content" because I am of the opinion that my cartoons and writing do have some artistic merit (no matter how small). If you were to read down the list and NOT see it as appearing in an artistic context, Blogography looks incredibly pornographic, violent, and balls-nasty, which I don't feel is a very fair assessment.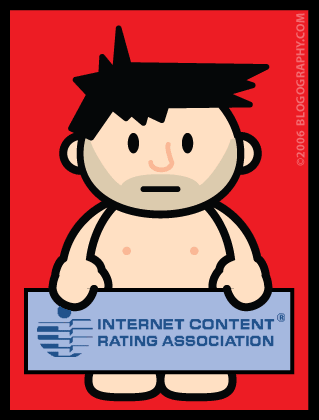 The simple truth is that I don't consider my blog to be in any way obscene. It's more like a PG-13 rated movie where young children reading it may be exposed to things that they don't understand, or sarcastic material that they can't yet view in the proper context without help from an adult. Sadly, I don't think this comes across in my ICRA rating because of the very narrow choices you are given, but it is what it is and so that's what i got.
Below is the current rating structure which I have labeled on every page in my blog. A sample link is given to show how I am interpreting the label for actual content...
Exposed breasts: Janet!
Bare buttocks: Hot!
Obscured or implied sexual acts: Peanut butter!
Injury to human beings: Postage!
Injury to animals: Vegetarian!
Injury to fantasy characters (including animation): Potter!
Blood and dismemberment, human beings: Jedi!
Blood and dismemberment, animals: Vegetarian (again)!
Blood and dismemberment, fantasy characters (including animation): Scanners!
Abusive or vulgar terms: Every chance I get.
Profanity or swearing: Da F-Bomb!
Mild expletives: I use "crap" and "ass" more times than I could possibly count.
Depiction of tobacco use: Love!
Depiction of alcohol use: Intoksikayshun!
Depiction of drug use: Tatercrack!
Depiction of the use of weapons: I want a gun.
Gambling: Hard Rock!
Content that sets a bad example for young children: that teaches or encourages children to perform harmful acts or imitate dangerous behaviour: Send in the clowns!
Content that creates feelings of fear, intimidation, horror, or psychological terror: Danza!
User-generated content such as chat rooms and message boards (moderated): Having comments turned on is user-generated content, I guess.
This material appears in an artistic context: Well, it does. Kind of. A little bit.
Oooh, I feel so perverted and dirty now.