WARNING: This is a bullet-point entry!
I am driving home from Seattle this afternoon, then will immediately start boxing up 38 T-shirt back-orders so they can ship out first thing Monday morning. That's pretty much my entire day, so I figure bullet-points are better than nothing.
Here we go...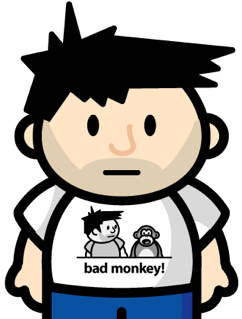 As mentioned above, I picked up a new batch of T-Shirts this weekend. For all 38 of you who've been patiently waiting for your orders to ship, tomorrow is the day! Thank you for your patience as I battle winter storms, kidney stones, emergency trips to Chicago, and all those other pieces of "life" that kept me from filling your orders.
I've received a couple of emails asking if my recent cartoons featuring "Zombie Dave" were in any way an indication that I was a part of the "Zombie Rave" that went terribly wrong in Seattle's Capitol Hill district this weekend. The answer is no. It is entirely coincidental, and I didn't even know about the "Zombie Rave" until we saw the news of the shootings on television. Very sad. The Seattle PI has the story for anybody who's curious.
Thank you again to everybody who left so many nice comments and sent all those happy birthday emails. It was completely unexpected, and I am deeply grateful to all of you who spent their valuable time giving me a shout-out.
Speaking of my birthday... March 24th is also the birthday for MacOS X, my operating system of choice. It's also the day that the dumbass monkey-spankers over at The Register published a completely false report about Apple CEO Steve Jobs selling off his stake in the company (it was actually a settlement to pay the taxes on his vested shares, and in no way shows a lack of confidence in Apple). But that didn't stop somebody from posting an anonymous (of course) comment that said "APPLE IS GOING DOWN DUDE!!! MAC SUX!!!!!" and then pasting a copy of the article. Oh how I loathe blog trolls. Read the facts over at AppleInsider.
April is looking to be kind of buzy for Blogography. The 10th through the 14th, I will be participating in Kevin's "Grassroots Campaign" to promote Pauly's new book "The Lost Blogs". Then the following week is my Blogiversary III Celebration from the 17th to the 21st (which is shaping up to be just as crazy as last time). Be sure to tune in, because there just might be some surprises along the way.
And speaking of Pauly... I am really behind in responding to comments and emails, and seriously behind in reading other people's blogs... but did notice that Pauly (who is one of those rare individuals who can be profoundly funny without resorting to curse words) has finally succumbed to temptation and almost used a swear word in today's entry over at Words for My Enjoyment! And what could possibly get Pauly pissed off enough to type "a-hole" in his blog? The answer is right here.
And I'm off. So long, Seattle...