Yesterday I made the mistake of visiting Brookstone and trying out one of those magical computerized "massage chairs". You sit down and press buttons that makes the chair come alive and give you a massage. There are a variety of modes to choose from... you can get a Swedish massage, a Shiatsu massage, or anything in-between. You can get a hard massage or a soft massage. You can have a heated massage or a vibrating massage. You can even have the chair massage your ass.
I turned on everything.
It was actually painful. But in a good way.
It was SO good, that I had to resist the urge to touch myself inappropriately...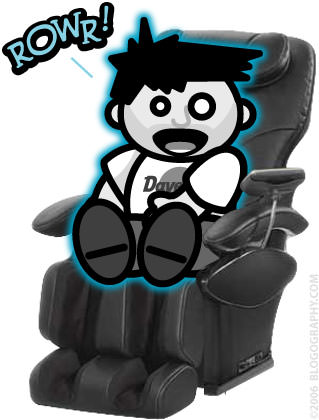 By the time it was over, I was ready to buy. But there were three problems...
The price tag was $4500. And for $4500, it had better do a lot more to me than massage my ass.
It was made by Panasonic, and everything I have EVER bought by Panasonic has busted to shit.
Did you read the FOUR THOUSAND FIVE HUNDRED DOLLARS part?!?
After goofing around the East-side this afternoon, I said goodbye to my friends there and headed Seattle-side.
Since our Cabo San Lucas plans were scuttled, my friend and I decided to stay downtown so she could take me out for birthday dinner and we could wander around the Market in the morning. We would have taken a look tonight, but everything was closing just as we arrived. The sunset was nice though...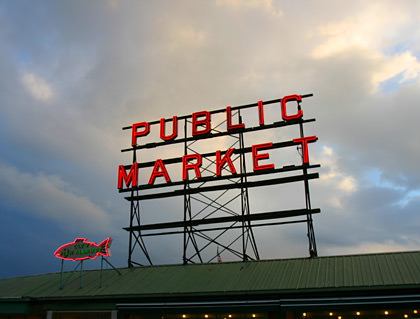 Our room overlooks the new Seattle Public Library. This freaky building seems interesting, and sure photographs nicely from a distance...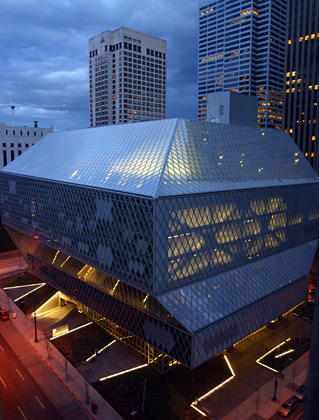 Unfortunately, it looks like total crap from street level. Kind of like they took six really cool buildings, then smashed them all together at unpleasant angles or something. Not a pretty picture to me, but it does have its fans.
And now, if you'll excuse me, it's ice cream time.
ICE CREEEEAM!! ICE CREEEEEEEEEEEEEEEEEAM!!
Oh yeah... thanks to everybody who was kind enough to send their birthday wishes... I feel much loved. :-)