Why does the USA have the ugliest, most boring money on the planet?
Seriously, I've been around the world more than a couple times and, everywhere I go, everybody else has sexier money than we do. Most foreign currencies look as though a gifted designer... a true artiste... sat down with a plan and crafted a cohesive statement that is both beautiful and representative of the currency's home nation. US currency looks like somebody sat their butt down in some random patriotic bits then wiped their ass with a piece of paper.
I can only guess that the "design" meeting for our currency went something like this...
"Hey, let's slap an engraving of a dead president on there, then sprinkle random shit everywhere to really junk things up. Then, just to be sure we don't accidentally make our bank notes look like a currency "family," let's intentionally make sure all bills have different typefaces and symbology. And, to be sure our money is the most boring it can be, let's use drab green as the only color, sprinkling other random colors around only when forced to for security measures."
Thus the "new" US currency was born.
Well, not actually "born" so much as crapped out of the ass of the US Mint. The latest atrocity being the $10 bill that's being released any day now...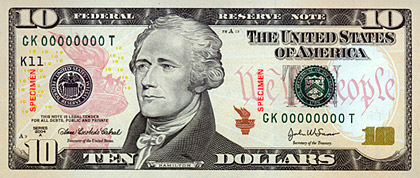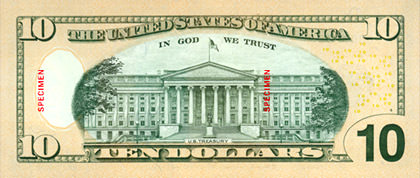 And then there's the $20 that was released a while back, showing entirely different design elements, typefaces, and illustration style. WTF? Did the person designing the $10 even LOOK at any other bills?!?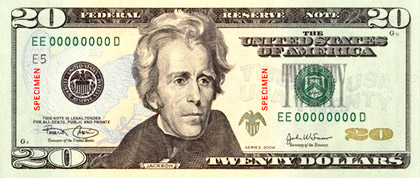 How totally embarrassing. I'd rather shop with Monopoly money than this dippy-looking cash.
Now take a look at this beautiful specimen from Costa Rica (as swiped from Randy Johnson's excellent world money pages)...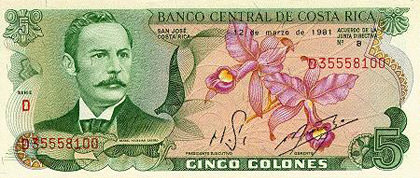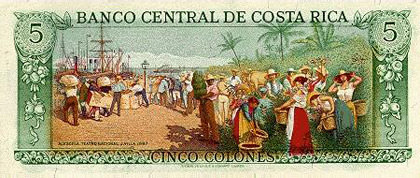 Yes, Costa Rica. An agricultural country that's smaller than the State of West Virginia (one-half of %1 the USA's land area), has 1% of the USA's population, and 1.4% of the Gross Domestic Product, takes more pride in their money than we United States. Why didn't we outsource our currency design to Costa Rica so we could have nice-looking bills? We don't seem to have a problem outsourcing every other f#@%ing job here.
I should run for president in 2008 based solely on the promise of affordable health-care, accountability of action, and better-looking money.
I would seriously kick-ass as president.