I first saw this meme at Chronic Listaholic, and misunderstood it to be that you have to answer every question using only the title of songs by The Eagles. Now I see that Kevin over at Kapgar has done it, and apparently you get to choose the band you want to answer with.
Now that I can do...
Choose a band/artist and answer ONLY in titles of their songs...
Based solely on question #5, I'm going to have to go with Depeche Mode. I should try it again with either a-ha or Erasure, because they both have some songs that are perfect for this kind of thing.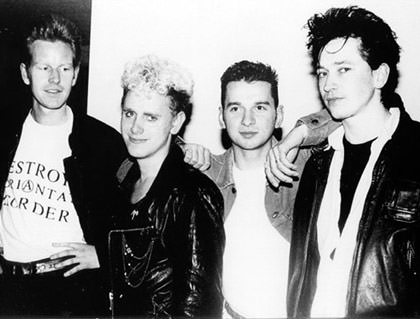 1. Are you male or female?
"Somebody"? (see, if I was going with Erasure, I could have answered "Boy"!).
2. Describe yourself:
"People are People" (hey, I should have said "Sweetest Perfection"!).
3. How do some people feel about you:
"Just Can't Get Enough" (because can you ever really have enough Dave?).
4. How do you feel about yourself:
"Dangerous" (I could be dangerous if I wanted to).
5. Describe your ex boyfriend/girlfriend:
For the last one it would have to be "Now This is Fun".
For the one before that, "A Pain That I'm Used To"".
For the one before that, "Lie to Me".
For the one before that, "Barrel of a Gun".
(Thankfully, I don't have to answer "Shake the Disease"!)
6. Describe your current significant other:
"Nothing".
7. Describe where you want to be:
"Behind the Wheel" (I was going to say "In Your Room" but thought that might scare you).
8. Describe how you live:
"It Doesn't Matter" (because so few things in life actually do).
9. Describe how you love:
"I Feel You" (or, on occasion, "Strangelove").
10. What would you ask for if you had just one wish:
"Never Let Me Down Again" ("Policy of Truth" would also be nice).
11. Share a few words of wisdom:
Either "Nothing's Impossible" or "Everything Counts".
12. Now say goodbye:
"Leave in Silence".
Funny, I just went back to Chronic Listaholic so I could link to SJ for starting this, and see that she had asked to see me answer with Depeche Mode songs in the comments. Cue Twilight Zone theme here.