This will be my last entry at Blogography. This morning I got an offer to write material at a commercial blog FOR MONEY and, since I am barely capable of writing one thing each day, I'm afraid that Blogography will be shut down for the foreseeable future.
Oh... wait a minute... I got that backwards. I REFUSED the offer because I am barely able to write one thing each day, and I am not ready to give up my blog just yet. Yes... yes, I'm sure that's how it went. But still, that's kind of flattering isn't it? Somebody found my crappy blog entertaining enough to want to pay me actual money to write stuff. Strange.
Anyway, the latest Project Catwalk finally hit, and Liz was her usual brutally hot self. A double-vision in magenta...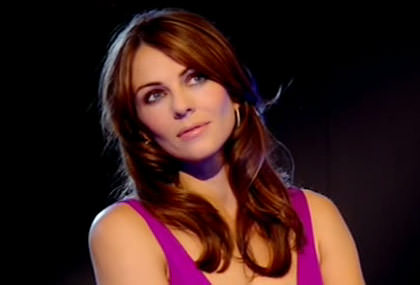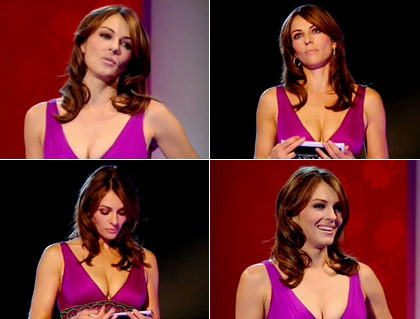 On the way to work in the rain this morning I needed to stop at the mini mart to pick up some cheese popcorn. Hey, I woke up craving cheese popcorn and far be it for me to deny myself anything. When I arrived, there was a guy in a dirty coat standing soaking-wet in the middle of the parking area. As I pulled up and got out of my car, the guy came right up to me and without hesitation said: "I really need a drink, do you have a couple of bucks?"
The reason I don't hand out money has already been documented (here, in a very special episode of Blogography), so I told him that while I cannot give cash, I'd be happy to buy him a breakfast burrito and a coffee if he was hungry. "Burrito? I don't want a burrito! I need a drink!" After explaining that this wasn't going to happen, I fully expected that he would take me up on my offer, but instead he said "aaaah, keep your damn burrito!" and walked off into the rain.
If only I had the discipline to become a wandering alcoholic. I mean, I always have such a great time while drunk, so it must be like a non-stop party (at least until you run out of booze money like that poor bastard). Meagan called once I had bought my cheese popcorn and, after I told her about my random encounter, had to remind me that being drunk in public is not the best career move for me...
Years ago while she was still living in Portland, I had gone down for work and we hooked up for a night on the town with her brother and his partner. Many alcoholic beverages were consumed before we finally decided to go to the movies. It was one of these weepy drama flicks that only women and gay men can enjoy, but I was totally drunk and didn't care what they wanted to watch. Turns out that was a mistake, because I was bored... bored... bored.
So bored that I did something bad.
There was this dramatic scene in the film where some daft bitch wasn't watching her daughter and the little girl wandered off and got trapped somehow. The woman struggled valiantly to reach the girl, but she couldn't. There were all these dramatic close-up shots of their hands almost touching, but not quite.
The woman in the movie cried.
The little girl in the movie cried.
The audience cried.
I just screamed "USE THE FORCE, BITCH!!"
In my defense, it did work for Luke when that abominable snow monster hung him up-side-down in the ice cave and he could almost touch his light saber.
There were a couple of big laughs in the audience (presumably those few straight guys who had been forced to watch this pile of crap by their girlfriends), but overall my helpful comment was not well-received by my fellow movie-goers. I really don't blame them. I hate it when some dumbass ruins the film for everybody... it just so happens that this time the dumbass was me.
When a woman left the theater, I knew she was going to get the manager, so I told my posse I was going back to the bar before I got tossed out and they could just come get me after the movie was over. Much to my surprise, they actually did come and get me.
So perhaps Meagan is right. If social drinking is this difficult for me, maybe this isn't a good career move?
Oooh, look! It's another picture of Elizabeth Hurley!!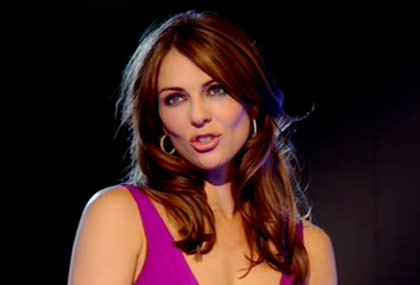 Oh yeah, speaking of The Force... my fellow Lego Star Wars video game lovers will be happy to know that IGN is running a production diary for the sequel over at their site. How cool is that? I guess it's time I renew my IGN Insider membership. All I know is that I cannot WAIT for this game to be released...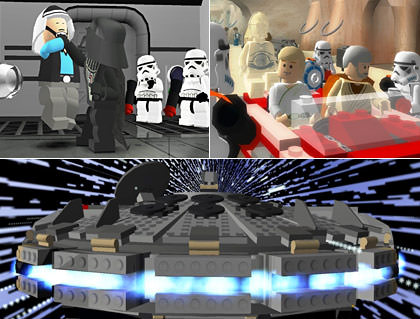 Awww... isn't little Lego Darth Vader cute as he chokes that little Lego Rebel Alliance soldier?