There are choices that define you. Choices that let the world know who you are... what you're about. Everything from what you choose to wear to what you choose to drive is analyzed by everybody you meet. Make the wrong choice, and you can give a very wrong impression.
And there is nothing more harshly analyzed than what bank checks you choose.
It used to be that checks were all the same. You opened a checking account and got some kind of blue or green pattern and that was the end of it. There was no choice... your bank had already made it for you. But now things are very different. There are hundreds, if not thousands, of check blanks you can choose from. I don't write checks very often because I use an electronic billing service and a debit card, but every once in a while I need to write one. And I am down to two left, so now it's time to choose.
The checks I loathe most are the cute ones. Puppies and rainbows and all that happy crap. When I am writing a check, I am generally not happy. And I don't want the people to whom I am giving the check to be happy either. Kittens are the worst. Nothing more horrible than a cute kitten on a check. Unless it's a kitten cartoon...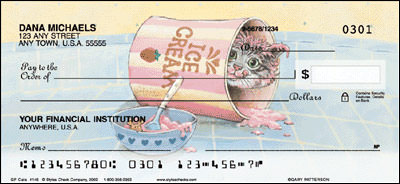 Or maybe babies dressed up as angels is the worst, I can't decide...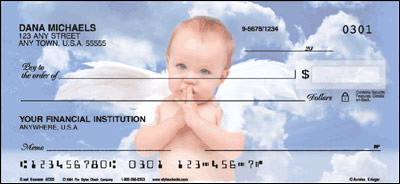 So then I start looking for things I dislike. Things that make me very unhappy. And right at the top of the list is country music. I loathe country music with a passion usually reserved for child molesters and Ann Coulter. And there are plenty of country music checks to choose from. Like Kenny Chesney, for example. A design like this is guaranteed to piss me off whenever it came time to write a check...
But that's pretty gay. Okay, it's a LOT gay. And with my gayness rating hovering at 20%, I cannot afford to add the kind of gay points that Kenny Chesney checks would give me. I need something more butch...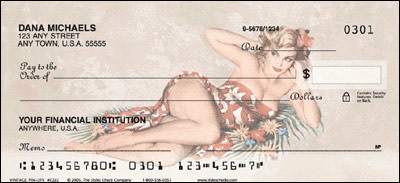 But that's kind of lame, because checks with chicks just look like you're compensating for something... they say "I am so not butch that I give you this sexy chick in the hopes that it will fool you into thinking that I am a total stud". So instead, I thought I'd head in another direction and look for something totally macho. Something that would make that babe at the checkout counter totally "get" me. Something that shows I am a bad-ass that doesn't take any crap and knows how to handle a woman. Something like these policeman checks...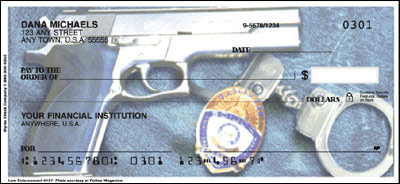 But passing out checks with guns to people is a little scary now-a-days. I don't even know if airport security would let me on a plane carrying something like that. So maybe there is a more heroic choice? Something that screams "I am the very definition of masculinity and manly vigor". Something like these firefighter checks...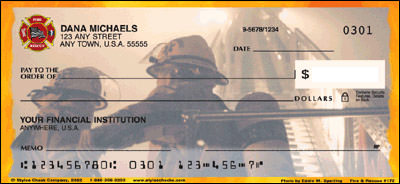 Except the only thing more lame than checks with chicks has got to be trying to explain why you are carrying firefighter checks when you're not a firefighter.
So then I go looking through sports checks... cartoon character checks... patriotic checks... designer pattern checks... check after check after check. And nothing even remotely says "THIS IS ME!"
Until I found these totally awesome Rob Zombie checks...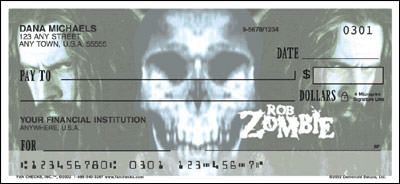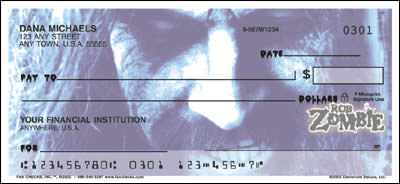 That aught to scare the crap out of the little old lady at the rental storage company!