The sweat pours down my forehead as I crouch behind the battered automobile. My ears are ringing because the sound is deafening as they unload in my direction. The car shudders amidst flashes of light, and pieces of metal rain down upon me. These guys really, really hate me. But that's okay. Thanks to some inventive internet research, I've got the Big F#@%ing Gun with me and am ready to unleash. I wait for them to reload, and then it's my turn. I blow away everything in sight, my MSAW ripping through wood, glass, metal, and flesh. I know this is so wrong, but I just can't wipe the smile from my face. The Microsoft Internet Explorer developer group deserved to die. All of them. Rest in pieces you bastards.
And this is why I think playing violent video games is actually a good thing. If I couldn't fire up my Xbox and pretend to blow away the idiots who made Internet Explorer the shitty-ass browser that it is... I would probably be tempted to do it in real-life. But instead, I just sit down with the video game Black and blow shit up for an hour, then the urge to kill is manageable again.
And it's all because of this...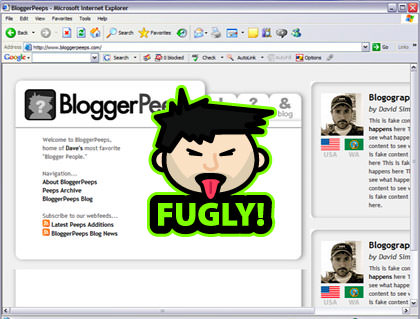 BloggerPeeps beta, which is starting to look fabulous in every browser I throw at it (including Safari, FireFox, Opera)... is, of course, looking like crap in Internet Explorer. AS USUAL!! So then I've got to sit down and try to figure out which magical combination of "display:block" and "display:inline" statements will bypass all of the IE bugs and display the page as it's meant to be seen. I must be getting used to it, because it only took about an hour this time.
Anyway, everything is coming together for my very own elite blogging "anti-network". Tonight I'll swap out the temporary graphics with the real thing, then get the database hooked up. After that, I'll be good to go, and start adding sites later this week. Woot!
Now I need to go buy groceries. It's 10:00am, and all I had to eat for breakfast is a can of Mountain Dew.
I feel funny.