I've decided that I don't like being a delivery boy. Too much hassle for too little reward. There are perks, however. Unlike my "real" job which never ends, this job is done, done, done. I hand over the package, and it's over. I can go home and not think about it anymore.
The only thing I have to think about is whether my flight is going to leave on time. Last night they were having problems with their radar here at O'Hare, and we arrived a half-hour late. And since I didn't get much sleep last night, I really don't want any delays for my flight out. I'll have a hard enough time staying awake for the 3-hour drive home once I land in Seattle.
As a side-note... why in the heck do they put cameras in mobile phones?
The quality is always tragic, making the camera totally worthless, so why bother?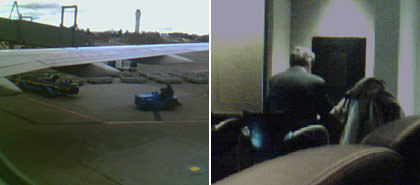 On the left is a picture out my window from yesterday's flight out of Seattle. Since I bought my ticket earlier that same day, I got a crappy seat in the back of the plane. I wanted to preserve the moment forever, but this picture isn't going to bring back any memories except how much my phone's camera sucks ass.
On the right is a photo of a dumbass who is clipping his nails here in United Airlines "Red Carpet Club". This elite refuge for frequent travelers is supposed to be a classy and comfortable retreat from the chaos of waiting at the gate. As it turns out, you get the same redneck morons who think that flinging their nail clippings everywhere is acceptable behavior.
But, on the other hand, here at the Red Carpet Club you get FREE MINI BAGELS WITH CREAM CHEESE!! WOO HOO!!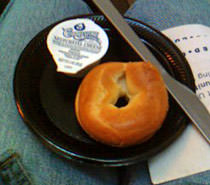 Actually, these bagels totally blow, which just goes to prove that you cannot find a decent bagel outside of New York. Don't ask me why.
OH GREAT! SOME BITCH JUST BROUGHT A SCREAMING BABY... INTO THE RED CARPET CLUB!! I guess that's my cue to go claim my seat upgrade and go home. I project my odds of being able to sleep on the plane at 6%. Hopefully somebody will drop a suitcase on my head as they try to over-stuff the overhead bin so I can finally get some rest.