Blogging is an effortless endeavor for me. I've read about bloggers who struggle with every new entry, bloggers who get burned out, bloggers who can't think of things to write, bloggers who ramble on because they don't have anything to say... but it's never that way for me. I just sit down to write and, 10-20 minutes later, it's over. Results may vary, but that's all there ever is to it.
But not today.
I woke up, had a few minutes to write... but didn't feel like it.
The twenty minutes I take for lunch... didn't feel like it.
Home from work and done with dinner... didn't feel like it.
Now I've watched a couple hours of TiVo-recorded television... and still don't feel like it.
Maybe if I make a toy boat from a photo I took in St. Thomas...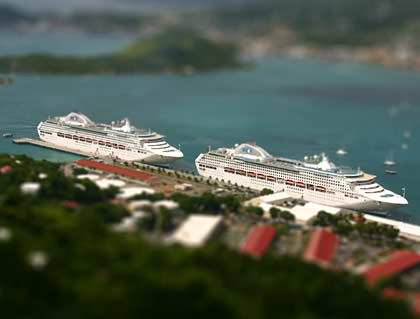 Awww, cute. But I still don't feel like it. Maybe a dippy internet qiz will help... like "Which of the Seven Deadly Sins Are You?"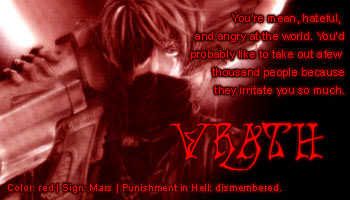 Uhhh, no. Stupid quizzes are still stupid. How about a meme I found at Blue Goo Ate My Mom?
When you looked at yourself in the mirror today, what was behind you? The bathroom door.
How much cash did you spend yesterday? Around $30.
What's a word that rhymes with mist? List.
Favorite planet, which you would live on, if you could? Kashyyyk, where the Wookies live! Or maybe that planet in Star Trek where the hot green bitches are.
Who is the LAST person you kissed? Mary.
What is your favorite ring on your phone? Vibrate.
What is the last band shirt you wore? My Thompson Twins "Into The Gap" tour shirt which I wore on Sunday from a concert I attended in 1984.
What do you think of yourself? I am astoundingly brilliant, and should totally be ruling the earth.
Name the brand of your shoes you're currently wearing? Nike.
Night light or pitch black? Pitch black.
What do you think about the (previous) person who took this? He has one of the sexiest blog templates ever.
What were you doing at midnight last night? Working on the BloggerPeeps sidebar widget.
What did your last text message say that you received? I don't know... it was Verizon trying to sell me something so I deleted it without looking.
Where is the nearest Valero? WTF is a Valero?
What's something that you say a lot? "Crap!"
Who told you they loved you last? My grandmother.
Last furry thing you touched? A towel.
How Many Drugs Have You Done In The Past three Days? Uhhh... none.
Favorite age you have been so far? 30.
Your worst enemy? Jared Fogle, the Subway Sandwich whore.
What is your current desktop picture? My friends, from a trip I took with them to Expo 86 in Vancouver.
What was the last thing you said to someone? Bye.
How do you like your eggs? Over medium.
Do you like someone? I like a lot of people.
The last song you listened to? Nothing's Impossible by Depeche Mode.
Eh. I give up. :-(