Am I the only one who delights in the misfortune of dumbasses?
I don't know what's wrong with me, because my Buddhist leanings are all about love and respect for my fellow humans, yet I just can't seem to feel badly for stupid people when they do stupid things. Can't do it. Maybe my sympathy gene was misplaced somehow?
Or perhaps it's just because I am pure evil...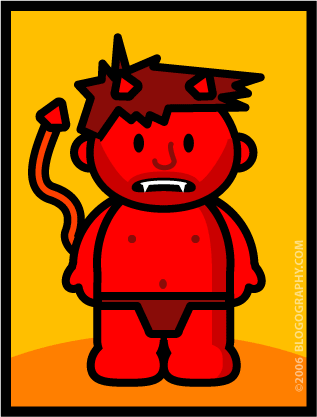 This morning I had to provide chauffeur services for somebody needing a ride. After dropping them off, it was still early, and I was hungry enough to eat breakfast at McDonalds while I waited. Sure the food will kill you, but I'm facing 40 and am totally ready to die.
So there I am just pulling into the McDonalds parking area, when I see this car entering from the opposite side of the lot. Much to my surprise, they all of a sudden floor it, and come screaming across the pavement in my direction. At first I thought that I had somehow been transported into the movie Death Race 2000, but then I realized that they were just trying to beat me to the drive-through.
Except I wasn't going to the drive-through.
But they didn't know that, and decided to race me for it...
... and ended up ramming their spiffy new truck right into the curb because they were going too fast and couldn't stop in time.
Oops.
After parking my car, I noticed that the driver had gotten out of his truck to inspect the damage, and it looked like one of his rims took a bit of a beating. This made him mad. Very mad. Very, very mad. He was saying words that I don't think were intended to be said at McDonalds.
I'm sure he probably blames me for this somehow... dumbasses always do.
I thought it was funny, so I just laughed at him as I went to buy an Egg McMuffin (sans ham).
Evil, I tell you.