I was pleasantly surprised that I was able to get the latest Project Catwalk today, because most weeks it's at least Wednesday before it shows up (ATTENTION SKY ONE... you need to sell your shows on the iTunes Music Store so we poor Americans can see them in a timely manner!!)
Anyway, I start watching and was very pleased that Liz was looking particularly hot in this episode. I like it when she wears simple outfits that flatter her kickin' body rather than the more crazy stuff that covers it up. I mean, less is always more when you look like this...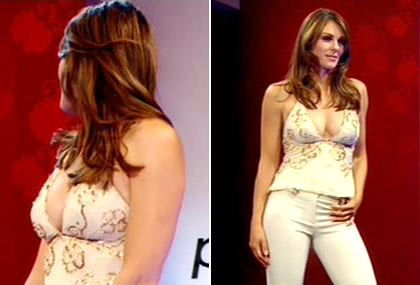 Better yet, the camera man and film editor final realized who it is they're dealing with, and have started to use appropriate shots to fully exploit the grandeur that is Elizabeth Hurley...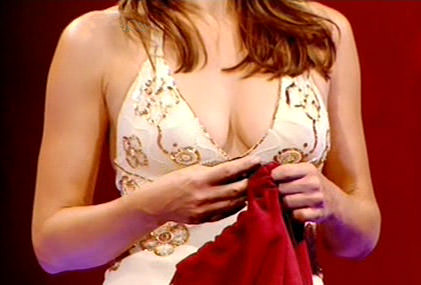 But then the best news ever is announced...
OMFG!! THIS WEEK'S COMPETITION IS TO DESIGN A NEW DRESS FOR ELIZABETH HURLEY!! How utterly brilliant! Why don't they do this every week? The good news is that this means we get to see a bit more of her this time... including some rather fabulous shots of Liz describing what kind of clothes she likes to wear...
I was desperately hoping that Liz would be modeling all the the dresses on the catwalk but, alas, this was not to be. It was just like a regular show with Liz in the judges seat looking hot and making notes.
And that's when IT happened.
That's when the most unfathomable, totally incomprehensible thing ever to air on television was shown in one heart-stopping, unbelievable moment.
Some dumbass said that he thought a dress was too sexy for Elizabeth Hurley to wear.
Yes, you read that right. This stupid queen actually had the balls (or lack thereof) to say that an article of clothing was not appropriate for THE Elizabeth Hurley... not because it was ugly or poorly made... but because it was TOO SEXY for her...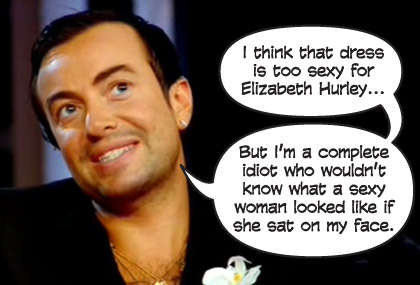 WHAT THE BLOODY F#@%?!?
Did he somehow FORGET what Liz looks like? She was sitting right next to him... all he had to do before opening his stupid mouth was turn his head and LOOK at her so he could realize "oh shit... I almost made a terrible mistake by saying something outrageously idiotic! How could I suggest that there could possibly be a dress that is too sexy for this brutally hot piece of eye-candy! How silly of me! What a silly little pickle I am!!"
But NOOOoooooo.
This monkey-spanker actually said IT. I was hoping that Liz would walk over and beat the shit out of him (seriously, I would have paid money for that action) but if she did whip up on him, they edited that bit out. Or maybe she waited until after the show was over, then set his car on fire... with him in it??
Then again, at the end of the day he'll still be a pathetic little bitch that nobody cares about... and she'll still be Elizabeth Hurley.
I guess there's no worse punishment than that.
But there should be.