When you design stuff for a living, people automatically assume that you have one of the most funnest jobs ever. Probably because when you're a kid, drawing crappy pictures to put on the refrigerator is loads of big fun. But alas, like so many things, once something becomes work... well, the fun is kind of sucked out of it. The pressure to be creative under a deadline is probably one of the more stressful jobs you can have.
I'd put it right up there with neurosurgeon and bomb squad technician.
Basically, if you mess up in our line of work, somebody is going to die.
Anyway... because everybody thinks that drawing pretty pictures all day is like a non-stop party, they feel that they are doing you a big favor when they call up and say "hey, I need you to design something for me". And because I'm a sucker nice guy, I usually go ahead and do it if I can find the time. I design menus and invitations. I draw birthday banners and CD covers. I create posters and advertising. It's an endless parade of little projects which everybody tells me "will only take a few minutes" (ha ha ha ha).
The latest trend is people asking me to design their tattoos, like this one I drew up yesterday...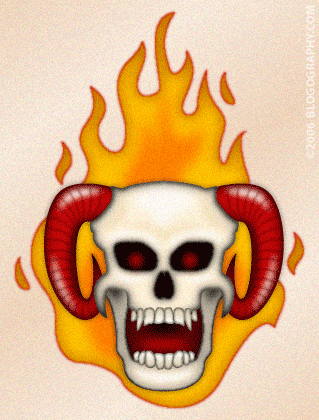 This is particularly painful for me, because I've always wanted a bad-ass tattoo of my own. Unfortunately, I could never manage to pull-off being "bad-ass". This is about as "bad-ass" as I can get...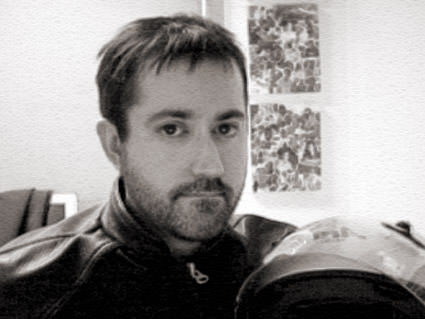 Needless to say, having a cool flaming demon skull tattoo is not an option when you look like Gumby.
And so I have to continue to draw awesome tattoos for everybody but me.
Except I still want one.
So my option here is to try and come up with something that my boyish charm can pull-off. Something totally lacking in hostility. Something that is bad-ass, but in a "non-threatening" kind of way. I'm thinking that it will end up being something like one of these...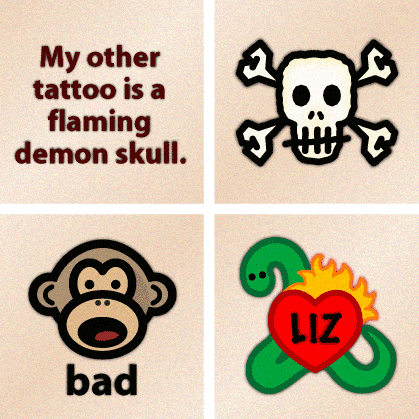 My other tattoo is a flaming demon skull. This one is pretty self-explanatory. It gives me the ability to imply that although the tattoo you are currently looking at is fairly reserved, somewhere else on my body is another one that's truly bad-ass. My only fear is that somebody will then be inclined to go looking for it.
Cartoon Skull. Though there is no way I can pull-off a realistic-looking skull and crossbones, I'm fairly certain that a cartoon version could work for me. It says "I'm bad-ass", but not so bad-ass that I have to worry about somebody mistaking me for an ass-kicking tough-guy, and want to fight me.
Bad Monkey. Because, well, you know... everybody just loves a monkey.
Garden Snake & Flaming Heart with Liz. This tattoo kind of covers all the bases. Since a scary serpent would be difficult for me to wear convincingly, I settled for a harmless garden snake. The flaming heart is a tattoo classic, but by making it look like something out of Hello Kitty, I don't risk anybody thinking that I want to rip their heart out and set it on fire. And lastly, I've got "Liz" in there so I can proclaim my love of Elizabeth Hurley and impress her with my dedication once fate brings us together.
Now if only I could decide where I want to put it after I pick the design...