Last night while I was waiting for a surprisingly tame episode of Veronica Mars, I saw a new commercial for a product called Herpecin. In case you hadn't guessed, Herpecin is used for treating any herpes infections that happen to find their way onto your face. And, while I appreciate that when you get oral herpes there is a product to take care of it...
HERPECIN?!?
Dude! Seriously. Who in the heck wants to walk into the drugstore and ask the sales clerk: "Where can I find the Herpecin?"
Worst. Product. Name. Ever.
But it did get me thinking about what would happen if this trend escalates...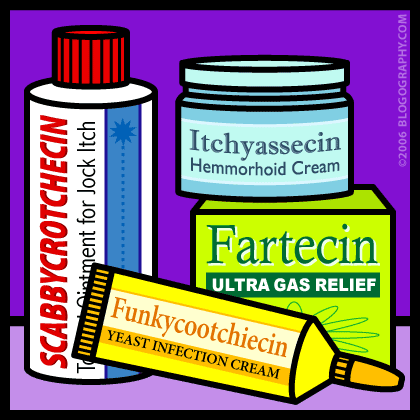 Bleh.
Unfortunately, as wonderful as modern medicine is... THERE IS STILL NO CURE FOR DUMBASS!!
Some stupid f#@%er is suing Apple Computer because listening to an iPod at full volume can cause hearing loss.
WELL NO SHIT YOU MORON!
Here's another newsflash for you... CUTTING YOURSELF WITH A KNIFE CAN CAUSE BLOOD LOSS!!
Who are these ignorant douchebags that are incapable of comprehending the obvious? The iPod NEEDS to have high volumes because NOT ALL MUSIC IS RECORDED AT THE SAME LEVEL! Some music is recorded softer than others. Many audiobooks certainly are. Some of the podcasts I've listened to are barely audible, even at full volume. On top of all that, some people are hard of hearing and need higher volume levels in order to hear anything in the first place. It's up to the individual to determine what volume level is appropriate for them and, if they are too f#@%ing stupid to figure it out, then they shouldn't be allowed to buy an iPod in the first place.
Seriously. This has got to stop.
Whenever a lawyer files such a stupid lawsuit, they should be immediately shot and then lit on fire. Or maybe bludgeoned with metal pipe and forced to choke on their own vomit. Or something involving a hack-saw and flesh-eating parasites. I dunno. All I do know is that this shit HAS GOT TO STOP!
What really chaps my ass is that these greedy turds are filing the lawsuit under the pretense of public safety, but the truth is that they WANT TO GET PAID. LAWYERS WANT MONEY!! Never mind that people have been using headphones for decades, all of a sudden everybody is too stupid and irresponsible to know that loud music can damage your hearing. WTF?!?
At some point people have to be responsible for their own stupidity rather than forcing everybody else to do it for them. That USED to be the American Way. But NOW the American Way is to sue everybody you can. Is this really what everybody wants for this country? Nobody wins but the blood-sucking bastard lawyers.
Anyway, one last thing... do you like potato chips? If you do, you'll want to read the rest of today's extended entry. If you don't like potato chips, then FOR HEAVEN'S SAKE DON'T CLICK ON THE LINK BELOW!!
Helpful Hint:
If you are from outside the USA, replace the word "chip" with "crisp" in the remainder of this entry.
A popular brand of gourmet potato chips from here in the Pacific Northwest is Kettle Chips. They've expanded their distribution quite a bit over the years, spreading their unique flavor and quality around the world. It's a classic example of a good product getting the popularity it deserves.
As a big Kettle Chips fan (their Salt & Pepper Krinkle Cut Chips, New York Cheddar Herb Chips, and Cheddar Beer Chips are awesome), I was intrigued when I heard that they were having a new flavor competition at their Straight-Up Flavor site. But rather than just telling you about the flavors, they allow you to order a tasting kit as well.
So what do you get for your $9.95 + $6.95 shipping?
Surprisingly, a very nice "Happy Hour in a Box" that comes complete with chips, score cards, tasting guide, and serving suggestions. The extras are pretty sweet considering that they could have just crammed the chips in the box and called it good...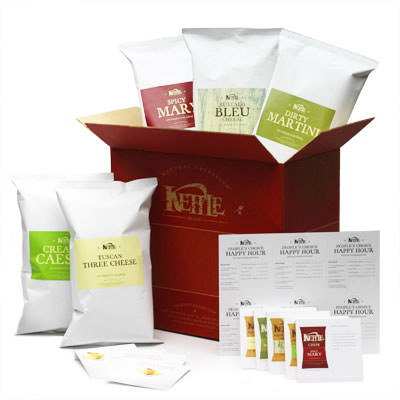 The idea is that you get a group of people together and have a chip tasting party...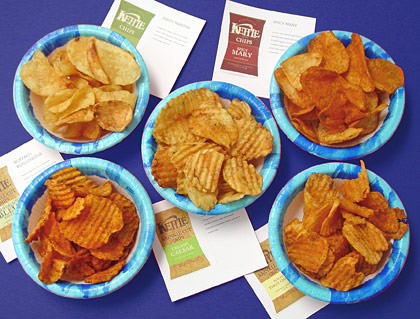 Kettle Chips are kick-ass thick and crispy, so they hold flavor well. You get a 5-oz. sampling of each flavor, which is enough for a bunch of people to get a good taste of the five varieties...
Buffalo Bleu Cheese: The taste of buffalo wings in bleu cheese dip. A nice balance between hot and cool that's mild enough to eat by the handful without the cumulative flavor overload that seems to happen with other flavored chips.
Dirty Martini: The taste of juniper and olive. My least favorite, I could not get past the juniper flavor which tasted like Pine-Sol.
Tuscan Three Cheese: The taste of goat cheese and Romano cheese with a hint of tomato and red pepper. The taste is great, but the goat cheese makes this chip smell like dirty socks.
Spicy Mary: The taste of a spicy Bloody Mary drink. I like the initial taste, but the heat builds up so that you can't really enjoy anything past that first chip. The tomato-vinegar flavor is good, and I don't mind the tinge of vodka and celery, but the "spicy" needs to be toned way down.
Creamy Caesar: The taste of a Caesar salad dressing, without the anchovies. Nicely flavored in buttermilk and parmesan, with a touch of garlic and green onion. I don't like over-flavored chips, but these weren't flavored enough. If they boost the parmesan and garlic a bit, this will make a good chip.
All in all, it's more fun than you deserve to have with potato chips. I wish more companies would do stuff like this. When I ordered my box, they said it was limited to 500 people... but it looks like they're going to do another batch of 500. If you're interested in the future of potato chip technology, there still may be time to participate.
Why can't somebody do this with pudding?