Last night I got an instant message from a guy I used to work with asking me if I remembered "the movie with that crazy singer who tore the panties off the blue woman that had Flash Gordon in it." I get asked bizarre movie trivia questions like this all the time, and am no longer surprised by them (the answer, of course, was My Chauffeur featuring Sam J. Jones, Deborah Foreman, and an appearance by Penn & Teller). What surprised me more was what came next:
"So, did you watch the State of the Union Address?" he inquired.
Uhhh... yeah... this would be me watching the State of the Union Address...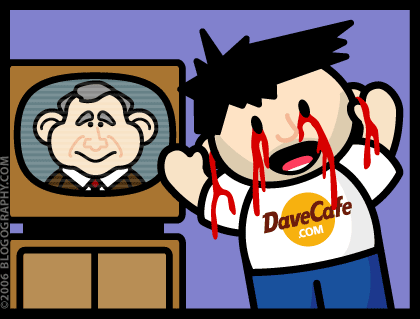 Once the blood stopped gushing from my eyes, ears, and rectum... and my brain stopped melting... and the screaming died down... I'm sure it would have been great fun. But, alas, I had a lot of really important things that needed to be done. Like walking my Nintendog and cleaning out the lint trap in my dryer.
Actually, that's a lie. I just don't want to admit that I'd rather light my pubes on fire and watch every Pauly Shore movie ever made while eating raw sewage than have to listen to President Bush (or most any other politician) speak for more than five minutes at a time.
I tried to at least read through the bullet points of the speech... but once I got to the line "America is addicted to oil" and thought back to how oil companies got 14.5 BILLION DOLLARS in government subsidies, then went on to report record profits... the screaming started again.
This annoys the neighbors, so I decided to give up.
Besides, I really do have to clean that lint trap.
BLOGOGRAPHY FLASHBACK ENTRY: Inaugural
BLOGDATE: January 21, 2005

In which Dave reviews the president's inaugural address, and notes some surprising omissions.
Click here to go back in time...