At some point in my childhood past, I had come to the conclusion that I was going to be a doctor.
But then I quickly realized that there is no way I could be a doctor because I didn't have the balls for it.
And when I say "balls" I am not trying to be all metaphorical... I am talking literal "balls". As in my testicles. Because any time I so much as hear somebody talking about blood or injuries or surgery or anything like that... my balls shrivel up and disappear. I think they're allergic to blood and gore or something. In any event, my testicles killed my medical vocation before I even got started. And you can just imagine how traumatizing it is for me to watch an episode of Grey's Anatomy, Nip/Tuck, or CSI.
But just because I abandoned my otherwise promising career as a doctor, I'm still not out of danger.
For instance, my mother had to call and drop this little bomb on me: "I sliced open my finger and had to go to the doctor to get stitches.
GAAAAAAAH!
To understand how this simple sentence affects me... let's take a little field trip to Dyersville, Iowa, home of the Field of Dreams movie site. For the sake of this demonstration (and to avoid being tagged as a porn site), the role of my testicles will be played by these two baseballs in a GLAD brand jumbo-sized food storage bag (with the "yellow and blue make green" zipper closure, so you KNOW it's closed!)...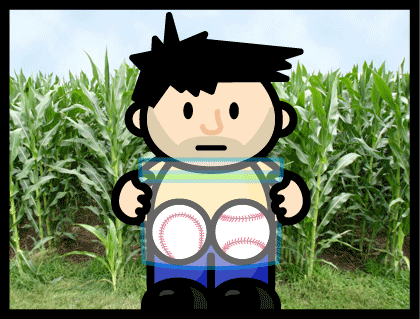 Once I hear the words "sliced my finger", my baseballs start shivering...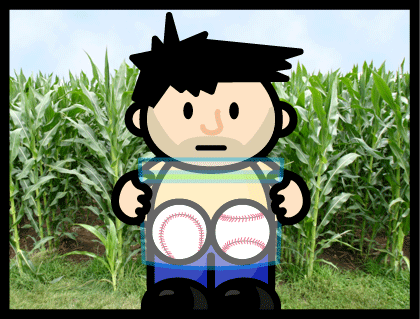 And once I hear the words "stitches", my GLAD brand jumbo-sized food storage bag starts to shrink in horror, taking my baseballs with it...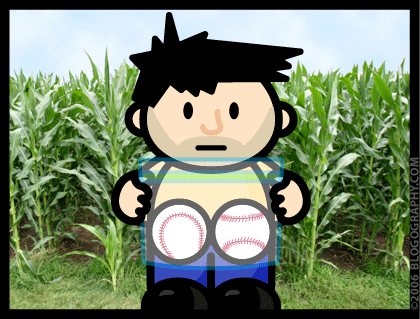 This leaves me with a pair of baseballs the size of marbles...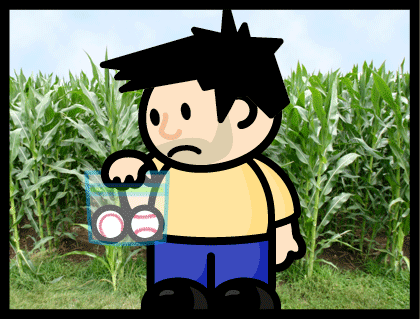 Obviously this affliction is a major inconvenience. Doctors have to look at blood and gore all the time, which would traumatize my balls quite badly. So badly that I would worry about them disappearing permanently. And as any guy will tell you (or, if you are a guy, you'd tell yourself) having something happen to your balls is a frightening prospect indeed.
Oh well. This is not the first time that my testicles have made a decision for me.
I'm relatively certain it won't be the last.
Anyway, speaking of balls (you just knew there was going to be a point to all this, didn't you?)...
How big of balls does it take to sell an episode of the TV show Survivor for $1.99... but then have the episode expire after 24 hours? For the answer, let's take a look at what Larry Kramer, President of CBS Digital Media, has hanging...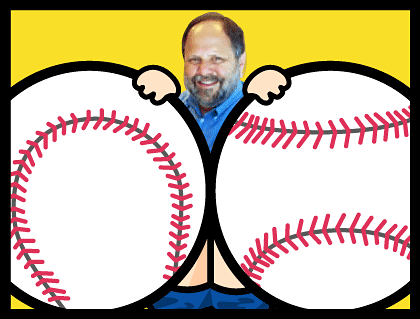 Yep! Those are some enormously huge balls! They'd have to be huge, considering that the $1.99 episodes you buy from Apple at the iTunes Music Store don't have an idiotic "self-destruct mechanism" that will destroy your purchases the day after you buy them. Once again, clueless people are making stupid decisions that will turn potential customers into criminals. Seriously... who is dumb enough to want to BUY a video that's only good for 24 hours when you can download the Bit Torrent off the internet for FREE that will last forever? The entire point of selling your show legally is to give honest people an alternative to illegal downloading... not ripping them off! Classic.
Congratulations Larry, my hat is off to you and your huge, huge balls!
This entry will self-destruct in 5... 4... 3... 2... 1...