One of the most beautiful objects ever created by man is Michelangelo's statue masterpiece, David.
As an art-lover, my life-long ambition has been to visit L'Academia Gallery in Florence so I could personally bear witness to this stunning tribute to the beauty of the human form. On October 16th of last year, I was lucky enough to do just that. I was not at all disappointed. I could write pages on just how amazing an experience it was, but it basically comes down to the fact that David looks as though he is made of flesh and blood instead of stone. All the muscles, the veins, every fold of skin... it's all been so meticulously crafted, that the experience of standing before it can literally take your breath away.
It's that good...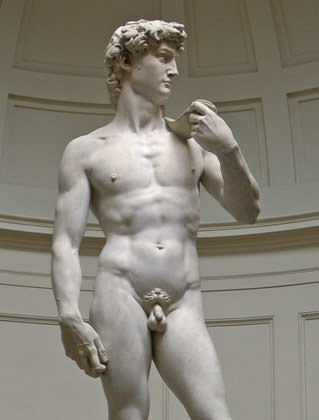 There are other statues of course... the exquisite Venus de Milo and the heart-wrenching La Pieta come instantly to mind. But David stands above them all as to what a true artist can accomplish given nothing but a block of stone.
Which brings me to the point of all this.
Boing Boing, one of my favorite sites on the internet, is doing a good thing very wrong.
It would seem that Boing Boing is being blocked by some filtering software due to their displaying "nudity" which is kind of stupid. Any nudity I can remember seeing has either been artistic or informative in nature, and in no way gratuitous or exploitive. I support Boing Boing 100% in their efforts to protest this ridiculous practice, mainly because I've posted content to Blogography (such as the above photo) which would get me censored as well.
What I do not support is the way they are going about it. They have decided to protest the butchering of artistic expression by butchering David to create web badges...

I mean, come on... now you've taken a work of sublime artistic beauty and reduced it down to a picture of a penis. I'd pretty much sum that up as the very definition of poor taste. It's no longer an artistic statement, but exploitation for the sake of shock value. I doubt most people seeing such a web badge would even understand that it's a crop of David. All they see is a penis (giggle, snort) which kind of defeats the entire purpose. If you are going to use David as a symbol, "be respectful to the source material"...

Otherwise I'd argue that you're no better than the people you're fighting.
(They wouldn't let me take photos at L'Academia, so the above photo is by Rico Heil and governed by the GNU Free Documentation License).