As a Certified Apple Whore™, I become automatically enchanted with absolutely everything Apple does. Historically, this kind of blind devotion has been repaid, because everything they do is new, unique, classy, and better than most of the other crap in the market.
So when I had read that Apple was having some kind of media event today so they could unleash some cool new toys, I was understandably excited. Well, both excited and terrified, because Apple gear is usually pretty expensive, and I don't have extra cash laying around.
Turns out I needn't have worried. All the hype was for an upgraded Mac Mini computer and something called the iPod Hi-Fi.
Whoop-de-f#@%ing-doo.
The new iPod Hi-Fi has cool potential, EXCEPT IT'S NOT AN IPOD!! It's just speakers for your iPod. In fact, without an iPod plugged in, it doesn't do anything at all. So why call it an iPod when it's not and confuse everybody?? Beats the heck out of me...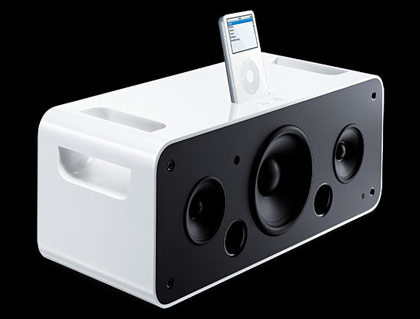 It would be different if it had a massive hard drive inside and could act as a wireless repository hub for your music, video, and data... but it doesn't. It's a boom box accessory with a remote control. I might be at least a little excited if Bose hadn't already come up with a more elegant-looking solution that costs $50 less and doesn't have your iPod awkwardly sticking out the top. It's called the Bose SoundDock...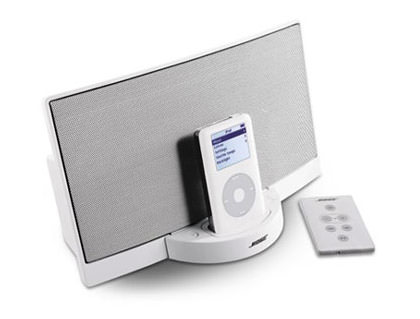 So when Apple asks "who better to design the ultimate stereo system for iPod than the folks who designed iPod itself?" I'm guessing the answer is Bose, who has a heck of a lot more experience designing small-footprint sound systems than Apple does.
Kind of sad really. I wanted my big-screen video iPod.