My car went out of warranty back in July so, naturally, now is the time that everything starts to go wrong with it. I swear that those bastard car manufacturers plan it like this, because isn't that the way it always goes? Unfortunately, the nearest Saturn dealership is three hours away, so I get to have a bit of a road trip this morning. I am not looking forward to it.
It's not the drive to Seattle that bothers me, it's the fact that I have to share the road with dumbasses on the way over. Like this complete tool that I had to follow to the liquor store yesterday...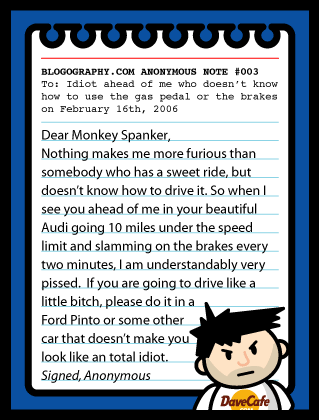 No offense to any Ford Pinto owners out there, but seriously... if you are going to be driving $40,000 automobile, at least act like you know what you are doing. Otherwise, you're just embarrassing yourself, and needlessly irritating everybody else on the road.
And away I go...